If you ask legendary Denver choreographer Cleo Parker Robinson, her new production
Journeys
is the culmination of a series of serendipitous moments between artists and a reflection on the strength of their relationships.
Robinson is the founder and artistic director of the historic Black dance troupe
Cleo Parker Robinson Dance
, which will perform
Journeys
at
the Ellie Caulkins Opera House
on September 25 and 26 in collaboration with
Denver Arts & Venues
.
The ninety-minute production will take the audience on an odyssey through four distinct performances: "The Four Journeys," "Freedom Dance," "Standing on the Shoulders" and "Fusion" — each a testament to the travails of the past year. "The Four Journeys" and "Freedom Dance" are world premieres. "Standing on the Shoulders" will be shown for the first time in Denver.
The works are an expression of "interconnectedness," explains Robinson, and a continuation of her company's fifty-year mission to use dance as a medium to share culture, explore the human condition, offer education and celebrate life's complexities.
Journeys
begins with "
The Four Journeys
," choreographed by Maesta Amalia Viviana Basanta Hernández and commissioned by Cleo Parker Robinson Dance with the support of the New England Foundation for the Arts. The performance will also include projections by
Taketo Kobayashi
.
Through folk dance, contemporary movement and regional-music soundscapes, "The Four Journeys" confronts cultural appropriation and stereotypes by presenting nuanced and complex story lines that traverse Mexico's geography and people.
It tells the story of
Catarina de San Juan, also known as China Poblana
, who lived during the seventeenth century. By chronicling her capture from China and enslavement in the Philippines and Mexico, the dance explores the influence of Asian, African, Indigenous and Spanish cultures on the creation of Mexico.
"The Four Journeys" has been in the making for two years. "It had a chance to stew and really find its voice," Robinson says. "A lot of times, you don't have that kind of time with a work."
It's a positive spin on the company's inability to present the show earlier because of the constraints of the pandemic. But despite being unable to practice in person, the dancers continued to work on the piece remotely through Zoom — a long-distance project made possible by previous in-person collaborations and deep friendships.
"Freedom Dance" was also created through a friendship between Robinson and
Grammy Award-winning jazz singer Dianne Reeves
. Though it took many years for the two to be in the same place at the same time, they finally connected at a film screening in July 2020.
The resulting collaboration is an ode to "feminine energy" and a celebration of "women in different parts of the world," Robinson says. It's a demonstration of "trust in the universe," friendship, craftsmanship, movement and "that what we need comes at a time when we need it," Robinson adds. "It allows us to say, 'let's just dance and sing together' … and uplift each other that way."
"Standing on the Shoulders"
continues to explore the theme of mutual support. Commissioned by the Vail Valley Foundation and choreographed to an original
Omar Thomas
composition, "Come Sunday," the piece was first shared in July 2021 in Vail. It celebrates renewal, reunion and unity, but Robinson says that creation took some personal soul-searching.
The process involved getting out of her head, into her body and "into other bodies that weren't as open as they were before" the pandemic, she says. There was a lot of fear to work through and anger over the heartache and confusion of not being able to dance for over a year. Ultimately she homed in on the importance of breath, and she made the concept central to the performance.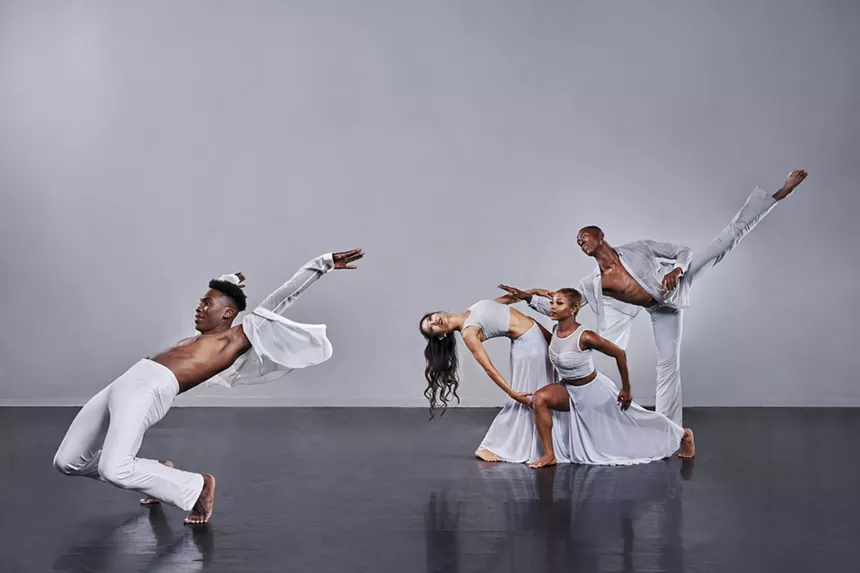 "Every breath matters," she says. "We saw it when George Floyd's was taken away. We see it when a baby's born. We know when people are making their transition." By honoring breath, Robinson found a way to honor lives. And it became "a spiritual exercise" she hoped to share with the dancers and now with the audience.
"Fusion" further connects spirituality to physical performance as a way of honoring the human body. The work was choreographed by
Haitian dancer and educator Jeanguy Saintus
, who first connected with the Cleo Parker Robinson Dance following the devastating earthquake that struck in Haiti in 2010. He worked at the Cleo Parker Robinson International Summer Dance Institute that summer where conversations among dancers fueled new inspiration.
"A central idea was to explore the reality of inclusivity in who we are and the world we envision and make. What about fusion?" he writes in an artist statement. "A fusion of realities and working through the differences of the Black experience."
"Fusion" "wasn't just a word written on paper, passed on to the dancers but of a collaborative, physical, intellectual and creative labor at the nexus of our collective cultures and spiritual vibrations," he continues in his statement.
The piece was first commissioned by Cleo Parker Robinson Dance in 2012, but almost a decade later, it still holds meaning.
And "Fusion" provides an aspect of the historical and cultural education that's so important to Robinson, as well as the lesson that "no matter what's going on politically in a country … we have to be creative together, and we uplift one another."
Journeys
will be presented at 7:30 p.m., on Saturday, September 25 and at 2 p.m. on Sunday, September 26, at the Elllie Caulkins Opera House, 1385 Curtis Street. Tickets, $45 to $75 for adults and $25 for those younger than eighteen and older than 65, are available through Cleo Parker Robinson Dance. Entry requires proof of vaccination or a negative COVID test.