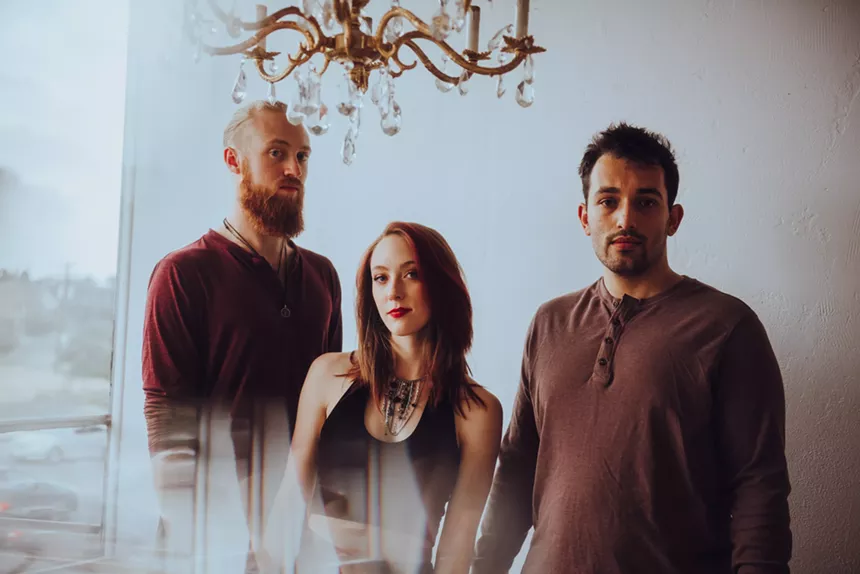 Redamancy
came together in a University of Colorado Denver music classroom. The chemistry was quick: The edgy pop-rock trio played its first show within a few weeks of forming, and in late 2018 released a self-titled EP of its early work.
"We were in a singer-songwriter ensemble," guitarist Adrian Garay recalls. "We were on a two-week schedule. We'd have a week to write a song. We'd present it the next week and get feedback and do corrections, and then repeat the cycle."
The members of Redamancy — Garay, vocalist Bella Musser and bass player Andreas Landeck — liked what they came up with: rock songs with jazzy and loungy undertones, the kind of catchy music that feels good to listen to. Now the band is set to release a follow-up EP,
Revival
, with a more fleshed-out, fully realized version of Redamancy's sound.
"Our first EP was basically us getting together through class and barely adding anything to [the songs]," Garay says. "They were barely put on electric instruments from their previous acoustic form."
The songs were acoustic originals by Musser, who notes that the band recorded its debut while the musicians were still getting to know one another personally and musically.
"Everything was very, very fast-paced," she remembers. "We just kind of took it and ran with it, so that first EP was kind of still figuring each other out and figuring out what style we wanted as a group and figuring out what songwriting looked like. For the most part, it was just songs I brought to the table."
Now, several years later, she considers Garay and Landeck family, and the songs on
Revival
reflect the time they've spent together honing their craft, particularly during the pandemic.
"Because of the bubbles and the quarantine rules, we were really the only people we were spending time with," Musser says. "It forced us to take a step back and really analyze the way we wanted things to sound."
All three draw from disparate influences — a mix of classic rock, metal, jazz guitar and more — that aren't often distinguishable in the finished product, whose unique sound is greater than the sum of its parts. Musser hears shades of
Foo Fighters
on the new EP, though she wouldn't necessarily call that band an influence.
"Recently, I've heard a lot of
Paramore
comparisons, which is interesting," she says. "It's not necessarily that we've been trying to emulate the sounds of the musicians we've listed [as influences]. It's like the inspiration has come from very minuscule things, like maybe a small section of a bass riff."
According to Garay, the compositions end up being a sort of compromise as the three throw out ideas and figure out how they'll sound in the end. Not everything is accepted by everyone, so an idea can change a lot over the course of a composition — but it's a fairly democratic process.
"The idea was to find a balance between how different all three of our styles are," Garay says. "Another way to think of it is like a spectrum."
"I totally come from a metal background," Landeck adds, "so it's a balancing act for all of us. I definitely lean in heavier directions."
Garay says that from a creative standpoint, Musser has primarily focused on lyrical content while he and Landeck have contributed instrumental ideas.
"Also noteworthy is that Andreas works at the studio where we ended up recording this and producing it," Garay explains. "We sat in a room for a long time to come up with these things and all the productive things. We have a genre spectrum and our own wheelhouses to contribute."
The band released the single "Hope You're Happy" on September 15, and will release a second single, "About Tomorrow," on October 6.
The songs on
Revival
mostly deal with empowerment and relationships, Musser says, and have something of a thematic arc, even if it wasn't entirely intentional. They are the product of troubled times, she explains: COVID played a part, of course, but so did graduating from college and navigating the adult world.
"In a way, they're a reflection of that growth and change," she says. "Meeting that with a kind of gracefulness and energy, and being able to come out of that change feeling empowered despite what that might have meant as we went through it."
Redamancy plays a SoFar Sounds show at 8 p.m. Thursday, October 7;
Revival debuts on November 19 on all streaming platforms. Learn more at redamancy.band.