American Bonded
at 2706 Larimer Street is an oasis for those looking for a strong, high quality drink that costs less than $10 in the trendy RiNo neighborhood. But while the bar has cocktails covered, it's most recent kitchen residents, the sandwich concept
Open
recently left, moving to Goosetown Tavern on Colfax Avenue and leaving an opportunity for something new to takeover. Enter, the
Chimichurri Bros.
, aka Forrest Bayne and Austin Hume (who, it should be noted, are friends of mine whose business I've watched grow firsthand).
"People always ask if we're really brothers, but chimi is thicker than blood," Hume says.
The two grew up working in restaurants and originally met when both were employed at an Italian spot in Fort Collins. "He cracked some joke at me," Bayne remembers, "and I was like, 'who is this guy? It's his first day, he's in training..." In 2012, their paths crossed again after both had relocated to Denver. "Ever since then, we haven't left each other's side."
With a shared passion for going to concerts and a similar hospitality background, the two friends often hung out, but hadn't worked together in years when both found themselves without a job after being laid off because of the March 2020 restaurant shut down. At the time, Bayne was the head chef at the
still-shuttered Vine Street
and Hume was working at Sushi Ronin. "We started thinking of ideas because we were bored out of our minds," Bayne explains. "We thought about condiments and sauces that could be bottled that we didn't already see on the shelves anywhere and that's when we came up with chimichurri."
After perfecting the recipe for an herby, garlicky classic chimichurri called Gaucho Sauce, the two set to work on something totally new to them: creating a brand. After landing on the name Chimichurri Bros., Hume drew the concept for a label design and, using their combined stimulus checks and a loan from a friend, had a graphic designer create a logo and purchased bottles, labels and ingredients. "We had the motivation to do something for ourselves and prove to ourselves, after forty-plus years combined experience in restaurants, that it was time to finally go out on our own and do our own thing," Hume notes. "It was kind of a renewal for everybody where you check yourself and figure out what you want to do with your life."
The two began selling the sauce at farmers markets in the summer of 2020 where they became part of a community of makers and new entrepreneurs all trying to grow pandemic-born ideas into full fledged businesses. "We have a ton of friends that we met through this whole game," Bayne says. "
Kid's Table
, Dave [Hadley] from
Samosa Shop
, the girls from
Moon Racoon Baking Co.
, Jesse [Albertini] from
Sfoglina Pasta
, Shawn [Goodwin] from
Sauce Leopard
... once we got in there and started to form those relationships and bonds, everyone was always helping each other out to make sure everyone's successful. It's not a competition, it's more like a family."
In August 2020, Vine Street opened its patio for beer sales and Bayne reached out to the owner and his former boss Kevin Daly with an idea. The Chimichurri Bros. would pop-up in front of the restaurant to not only sell sauce, but also to cook food for the people showing up to buy growlers and pitchers. Daly agreed so after purchasing a flat-top grill, the two spent three months serving an ever-changing menu of creative spins on street food including two items that quickly developed a cult-following: the Kim-cheez-steak made with
Kream Kimchi
and gochujang Cheez Whiz, and the Hatch burger with bacon jam, garlic mayo and green chile pimento cheese.
After the Vine Street run ended, Bayne and Hume continued to find other opportunities to sell sauce and cook food outdoors at events like concerts and markets as well as in front of other businesses like Finn's Manor in RiNo. In August, the Chimichurri Bros. competed in Top Taco with a chimi-doused take on birria as well as a vegetarian jackfruit taco with Palisade peach habanero salsa, taking fourth place in both the traditional taco and vegetarian categories.
In late September, Bayne connected with American Bonded through a mutual friend and in less than two weeks, signed a lease for the space, giving the two the chance to lean into cooking full time once again with full creative control over the menu of elevated American street food. "It happened really fast but we were tired of cooking outside, and it's starting to get cold so it's perfect timing," Bayne notes.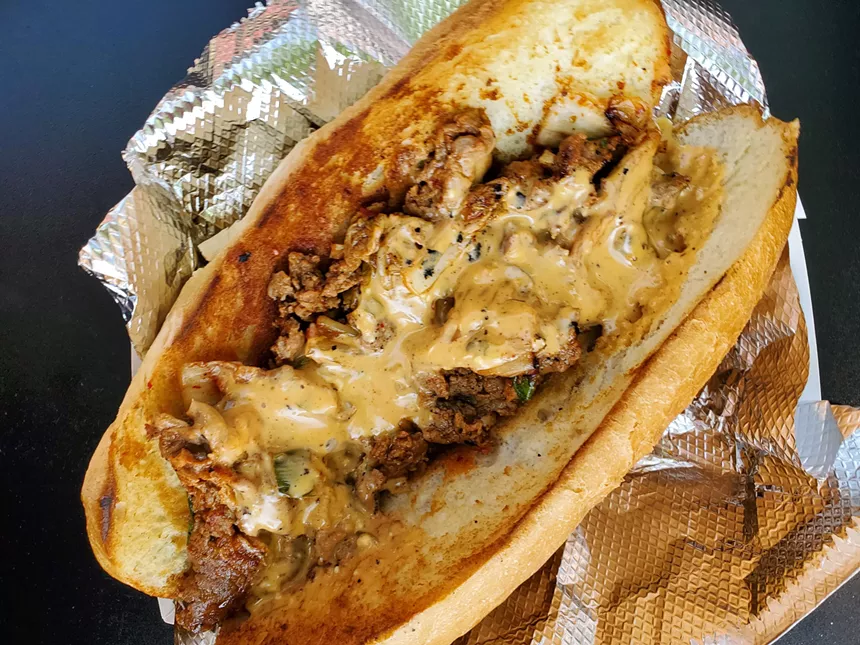 Because they'll be doing way more than chimichurri at the new permanent location, Bayne and Hume are dubbing the venture TSR. "'It stands for 'This shit rules,'" Bayne says. "It's from an Against Me! song, the first song on the album
As the Eternal Cowboy
."
The name is also a nod to the friends's shared love of live music. The menu includes other musical references, too, like the Love and Regret, a sandwich-style play on poutine made of a potato waffle topped with duck confit and cheese curds with a duck fat gravy dipping sauce, which is named for a Billy Strings song.
The menu will also bring back the Kim-cheez-steak and Hatch chile burger along with the birria tacos and several more new items including chicken wings that will be brined then breaded, fried and tossed in your choice of three sauce options: buffalo, honey bourbon barbecue and Korean-style. Everything is priced under $15, to match American Bonded's laid back style. Many of the items will also feature ingredients from the vendors Bayne and Hume met while starting their business. "Even though we're leaving the market game, we still want to be associated with our brothers and sisters," Hume says.
TSR opens October 7 and food will be available starting 4 p.m. Regular hours will be noon to close Saturday and Sunday and 4 p.m. to. close Monday and Wednesday through Friday. While it adjusts to its new location, closing hours will vary, but "we're focusing on late night food," Bayne adds. "We're going to take it slow in the beginning and figure out what works best."
The two will also continue making chimichurri, which will be available at American Bonded and online at
chimichurribros.com
, but the focus is on TSR. "We want to constantly be expanding and this is the next step," Bayne says.