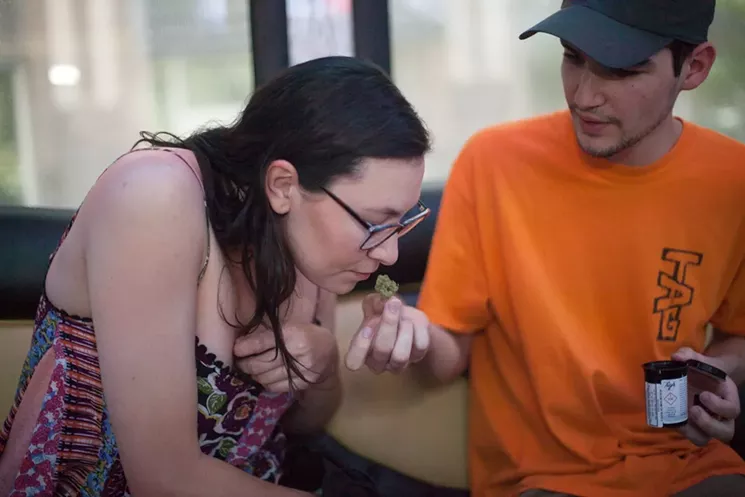 Studio420
808 East 78th Avenue
303-781-4642
Studio420 follows the private-club model. This north Denver pot haven doubles as a glassware and tobacco shop; membership is $10 per day and $20 per month. The club also operates the 420 Tour Bus, a mobile cannabis lounge available for events and private use. BYOC.
Boulder Adventure Lodge
91 Fourmile Canyon Drive, Boulder
303-444-0882
All right, so Boulder is a short drive from Denver, but the trip will be worth it after seeing all the outdoor fun available at Boulder Adventure Lodge. A pot-friendly cabin and camping area that also has a slackline park, nearby creek and regular group hikes, rock-climbing sessions and more, Boulder Adventure Lodge is known for its Colorado-centric activities, including cannabis. Although there's no smoking indoors, vaporizing is allowed, and there are designated areas outside for smoking cannabis.
OH Zone
2020 Kipling Street, Lakewood
720-418-8663

Lakewood event space OH Zone has cultivated a strong relationship with the cannabis community over the past year, regularly hosting private pot-friendly events for political activists, as well as cannabis cook-offs, senior citizen classes and industry parties. All of Oh Zone's cannabis events are for those 21 and up, who must register to attend beforehand. Check out the
event space's Facebook page
for consistent event updates.
Colorado Cannabis Tours
1101 East Bayaud Avenue
303-420-8687
Colorado Cannabis Tours mostly operates out of private buses, taking riders to various activities and tours in the metro area. You just show up to the headquarters after signing up, hop on the bus, toke up, and then check out dispensaries, cultivations, hash factories, hemp farms and more. If you don't want to be on the road, Colorado Cannabis Tours also hosts pot-friendly classes like Puff, Pass and Paint, Pipemaking 101, Cooking With Cannabis, Cannabis Karaoke and more. BYOC.
City Sessions
3377 Blake Street
720-250-8828
This cannabis travel and tour service offers several classes and tours involving cooking, growing operations, Denver sightseeing and more through its cannabis-friendly buses and home-base pot lounge in the city. However, City Sessions also offers more intimate experiences, with private classes for just you and your friends, as well as 420-friendly transportation to and from the airport and several ski resorts.
Update: This post was updated on August 15, 2021.