The holidays involve a lot of eating and imbibing, so why not up the ante by giving the gift of excellent food and drink, too? Colorado has so many amazing artisans whipping up an array of tasty, useful, beautiful and elegant products perfect for that culinary connoisseur in your life. From custom-made tiki cups to a cookbook with an adjacent spice kit to handcrafted bitters, make this season delightful for everyone on your shopping list with these fifteen local products that'll make you look like a gift-giving pro.
Holiday Whiskey
Toast the holiday with a bottle of
State 38 Distilling
's latest special-edition whiskey, Holiday High Rye Bourbon. This $70 tipple presents at 117 proof and is only available for purchase at the distillery's tasting room at 400 Corporate Circle in Golden, which is open from 4 to 6 p.m. Tuesday through Thursday and 4 to 7 p.m. Friday and Saturday. Yes, the spiced whiskey is strong, but like Santa, we all need some fuel to get through Christmas. There are only 160 bottles available, so shop early for this one.
A Beer Spa Day
Self care and local beer? A gift card to the
Beer Spa
at 3004 North Downing Street might be the best thing to give yourself, best friend, lover and parents. Options start at $200 for one or two people and include a ninety-minute private beer therapy room and two drinks. Despite the name,
the tubs aren't actually filled with beer
, but they are infused with hops, herbs and aromatics from the Colorado brewery that the spa is featuring that month on the taps. Pair that
gift card
with some of the Beer Spa's products, such as beer lotion, the signature scented candle and beer-infused shampoo and conditioner. And for those who don't drink beer, there are non-boozy beverages available, as well as gluten-free cider and wine.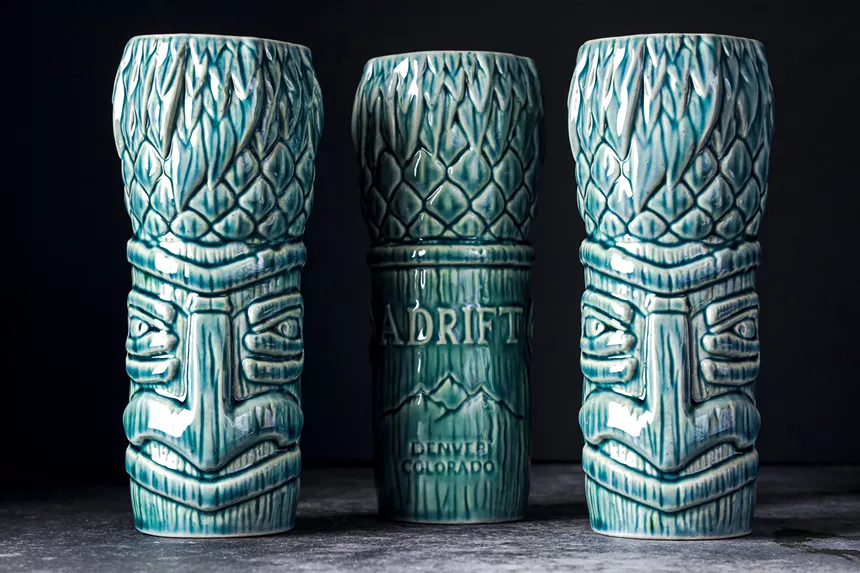 Custom-Made Tiki Cups
When it's chilly outside, what's better than dreaming of the beach? Drinking like you're oceanside. Drift off to paradise with a cocktail made in these cups from
Adrift Tiki Bar
. Each classic mug runs $50 and is available from the bar at 218 South Broadway. For even more tiki magic, add a gift card to Adrift and place it inside the cup.
Wine Time Any Time
Coloradans are all about the great outdoors — and drinking in the great outdoors. Beer gets the bulk of the glory when it comes to booze that's easy to pack in and out, but with
BruMate's Winesulator Gift Set
, vino can easily become a go-to hiking buddy. For $74.99, this local company will ship out a set of two wine tumblers and a sleek, insulated vessel big enough to fit a whole bottle of wine in. There are many colors to choose from, so all your friends can get their own set in hues of purple, aqua, rose gold, glittery black and more.
Barbecue History Book and Custom Spice Kit
Local food writer and Black-culture historian
Adrian Miller
released his third book this year,
Black Smoke: African Americans and the United States of Barbecue
. While the book would make the ideal gift for any aspiring pit master on its own, it can also be paired with the
special spice kit Miller curated with Savory Spice
. The $58 set includes the book plus the five barbecue seasoning blends, all with ties to Miller's research. It's a great way to add a bit of history to the table while enjoying something tasty on the side.
Order online
or stop into a local Savory Spice for the set.
Farm-to-Spa Basket
What does an urban farm do when herbs and produce need to be used up?
Huerta Urbana
, the urban-agricultural social enterprise from
Focus Points Family Resource Center
, created a spa gift basket using those ingredients. Enter the Huerta Basket, a $96 trove of handcrafted self-care items including soap, body soak, massage oil, a candle and more. All of the goods are infused with things grown at the farm, such as dried roses, calendula, lemongrass, basil, Thai basil and mint. It also comes with a jar of radish pickles, hand-picked herbal tea and an e-cookbook created by the community, which includes recipes like Pork and Potatoes and Venezuelan Sancocho.
Order online by December 10
for a December 15, 16 or 17 pick-up or delivery date. Pick-up will be at Focus Points Family Resource Center, 2501 East 28th Avenue, and delivery is available within five miles of the nonprofit's headquarters. As a bonus, all proceeds go to Huerta, which pays participants a stipend while they receive agricultural training and education.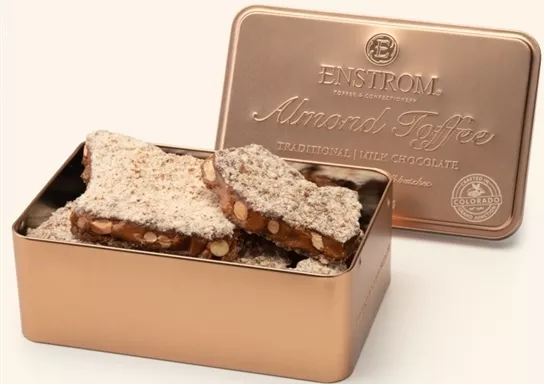 Christmas Candy
Even though chocolate-covered toffee is good year-round, there's something about a tin of the stuff that just makes the holidays sing. For that sweet-loving human in your life, gift a classy tin of almond toffee from
Enstrom Candies
— it's been the top toffee since Chester K. Enstrom started the company over sixty years ago. Each two-pound box is $53.50 and can be purchased online from the company's website, or sourced around Colorado at select retailers and the stand-alone Enstrom shops at 6770 West 52nd Avenue Arvada and in the Cherry Creek Mall at 201 University Boulevard.
Brewery T-Shirt
The $25 tee from
Our Mutual Friend Brewing
in RiNo is the perfect gift for beer lovers and fans of the Netflix show
Stranger Things
. Pair the shirt with an intricate Our Mutual Friend bandana and four-pack of Saison De Peuplier, which is brewed with smoked malts ($18), or the Modern Meltdown, a mocha stout with cacao nibs ($16).
Order merchandise online
, then pick it up, along with the beer, at the brewery, 2810 Larimer Street.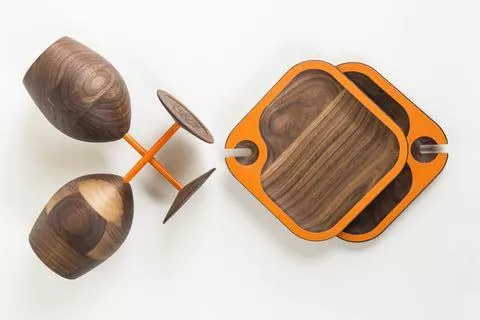 Wooden Happy Hour Set
David Rasmussen's sleek wooden goblets are a wine-drinking game-changer made by the designer in Carbondale.
The Wine & Mingler Gift Set
($148) includes two of his Chroma Mingler plates paired with a duo of Blasphemy Wine Glasses. The set is not only stylish, but the plates slip on to the stem of the glass so that you can easily eat, drink and chat at the same time. Order online from
davidrasmussendesign.com
.
Riskin's Bitters
If you happened to catch a mad scientist at one of the farmers' markets this summer, chances are you were seeing Riskin himself in action. After studying biochemistry and working as a bartender at Upstairs Cocktail Lounge in Boulder, he started Riskin's Bitters, a delightful company specializing in magical concoctions. A box of six bottles of bitters is $33 and can be
purchased online from riskins.biz
or found locally at Atlas Valley Purveyors (2770 Arapahoe Road, Lafayette) and the Boulder Wine Merchant (2690 Broadway, Boulder). Choose from flavors like Gator's Lair (celery), Dragon (spicy chile), Banshee (salted) and Cinna-Minotaur (cinnamon), and give the gift of crafting whimsical cocktails, hot teas or even sparkling water.
Circus in a Box
Anything with the word "circus" sounds fun, and when it's a combination of beers by Arvada's
LUKI Brewery
and colorful swag, you can bet this present will add excitement to the celebration. For $55, each kit comes with four Crowlers of beer, two campfire mugs, a LUKI embossed fleece blanket and apple cider. Buy the set online from the brewery's website, or head to the taproom at 14715 West 64th Avenue to pick one up along with a pint.
Jams and Honey
Victor Papazian's PRiMO
, a Denver-based company known for making interesting jams and honey blends, has created a stylish charcuterie accoutrement kit. The $40 set includes the newly released apricot and urfa mostarda, whiskey barrel-aged honey and Thai peppers, roasted Hatch chili and tequila preserves and strawberry-ancho preserves.
Order the kit online
and have it delivered with a note.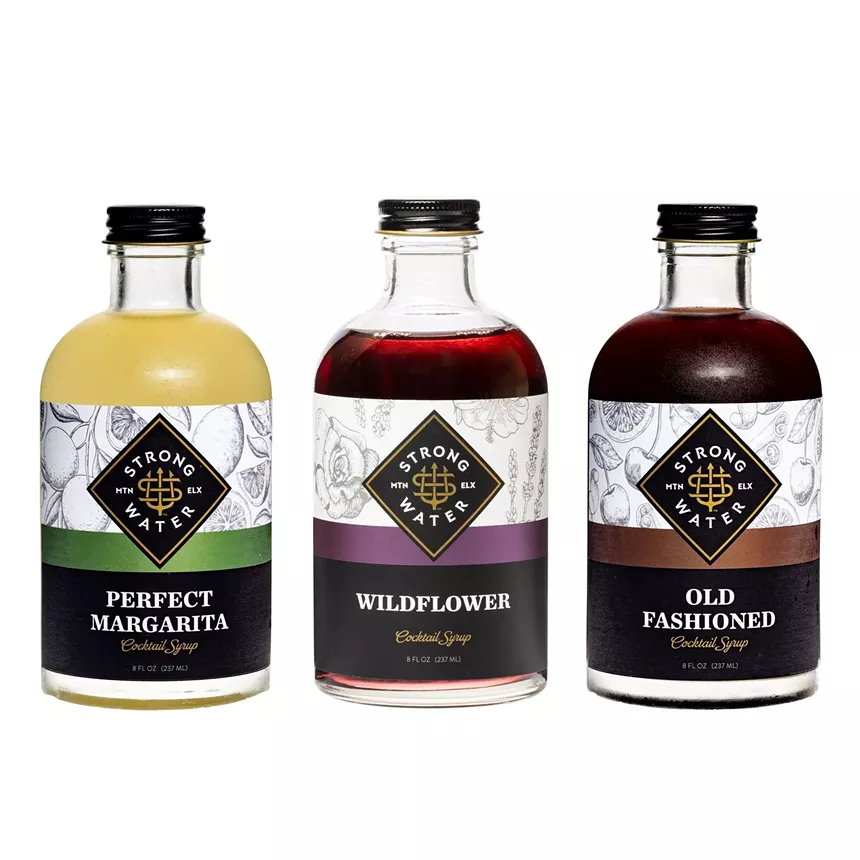 Cocktail Syrup Gift Set
Whether the receiver wants boozy beverages or zero-proof cocktails, this trio of handcrafted cocktail syrups by
Strongwater
will elevate any bar. The $44.95 set includes Perfect Margarita, Wildflower and Old Fashioned. The Margarita option is made Coin-style, which means in order to keep it booze free, there's orange added to the mix rather than the classic Cointreau. Wildflower uses roses, hibiscus and lavender in the blend, and the Old Fashioned comprises demerara sugar, fresh orange peel and organic cherries. All can be effortlessly mixed with the spirit of choice and/or sparkling water, and poured over ice in order to enjoy an easy drink made with many Colorado ingredients.
Order the gift online from Strongwater's website
.
Bread Club
Send the carb-loving person in your life the most comforting gift of all.
Bread Club is a bakery subscription service
featuring monthly goods by Moon Raccoon Baking Co., Rebel Bread, Mile High Pie Co., Pandemic Donuts and Sugar Bakeshop. Both subscription and one-time orders are available. The holiday-focused box of goodies includes such items as chocolate chess pie with orange zest, eggnog snickerdoodle cookies and peppermint mocha croissants, and prices vary depending how much is ordered. Pick up the box at Rebel Bread Production Lab, 675 South Broadway, or have it delivered in the Denver area.
Bacon Jam
Tender Belly just released uncured bacon jam
packed with a ton of actual bacon pieces. It's a sweet and meaty spread that pairs well with just about anything, and it makes an ideal stocking stuffer. Because this product is so new, it may be hard to find, but keep an eye out on grocery store shelves, in specialty stores and on the
Tender Belly website
.