MobCraft Beer
, an unusual Wisconsin brewery that builds its recipes based on customer votes and gained notoriety with a 2017 appearance on
Shark Tank
, is moving into the former Liberati Brewing space at 2403 Champa Street. The high-profile building has been empty since
March 2020 when Liberati closed
, leaving behind a short but delicious legacy of Italian food and beer/wine hybrids dubbed "
oenobeers
."
Henry Schwartz, who co-founded MobCraft in 2013, grew up in Lakewood before his family moved to Wisconsin when he was a teenager. But with family members and friends still here, he's been wanting to open a Denver location; in fact, he'll partner with his cousin, Justin Weber of Highlands Ranch, on the project. "My roots are in Denver and I've missed Colorado ever since I moved in 2003," says Schwartz, who returns often for beer events. "I also loved the thought of being in a beer Mecca."
But because the space is so big — the building is 12,000 square feet, with a 5,000 square-foot patio and a large parking lot —
MobCraft is teaming up
with
Dee Tacko
, a one-year-old Mexican food restaurant in Pueblo, which will use the kitchen to serve food on-site and also to make sauces and salsas for retail sale.
"We decided to divide the space to mitigate the risk a little bit," Schwartz says. Dee Tacko owners Cesar Munoz and Juan Herrera "are looking to grow, just like us." The two businesses connected after Weber had lunch at Dee Tacko and noticed the restaurant's "playful" names for its menu items, like Fungus Amongus (a grilled portobello mushroom taco); he thought they would be a good fit with MobCraft.
Dee Tacko makes both traditional and non-traditional tacos, burritos and other side dishes. Some of its other unusual names include the Biden-Harris, two tortillas stuffed with beans and cheese and topped with avocado slices, créma, pico de gallo and feta; and Gone Fishing, a taco with pan-seared wild Alaskan pollock, avocado, cilantro slaw and lime garlic aioli.
The building will be separated into two spaces: one for traditional sit-down dining and one with a "more casual taproom vibe" that includes lounge furniture and games, Schwartz says. The interior will also feature new murals and barrel furniture from local artists and artisans.
With his eye on a November opening date, Schwartz says he will use the same crowd-sourced model in Denver that he does in Milwaukee, where MobCraft is planning another location as well. That model starts with customers who submit ideas for beers and then vote on them by placing pre-orders — something that assures the brewery that even the crazy recipes will have a paying audience.
And there have certainly been some crazy recipes, including Boston Cream Dream, a doughnut stout made with cacao nibs, Belgian Candi sugar, vanilla and lactose; Scotty G's Pie & Ice Cream, brewed with apples, vanilla, cinnamon, maple syrup and nutmeg; and Punderstruck, a black IPA made with cherries. The most popular ones are canned or become one of Mobcraft's flagships, like Rhubarb IPA and Vanilla Wafer Porter.
"Our brewers are very talented in that they are able to put together brand-new beers — some of which are asinine and some of which are brilliant," Schwartz adds.
The wacky beers
gave Schwartz some trouble on Shark Tank
, where he was unsuccessful in trying to convince the "sharks" to invest. But the exposure helped the brewery find investors via crowdsourcing — the same way the brewery makes its beer. With money in hand, Schwartz moved the brewery from its original location in Madison, where it shared space with another brewery, to Milwaukee.
Now, Schwartz, who has enlisted former BA craft beer program director Julia Herz as a brewery advisor, is planning to raise more capital with
another round of equity crowdfunding on Wefunder
.
That will help pay not just for the space, but for the equipment left behind by Liberati owner Alex Liberati, who has been searching for a tenant to take his place inside the spacious brewery for a while. That equipment includes a thirty-barrel brewing system and a wide variety of unusual fermentation tanks that Schwartz says will be good for making fruit beers — and maybe even an oenobeer or two.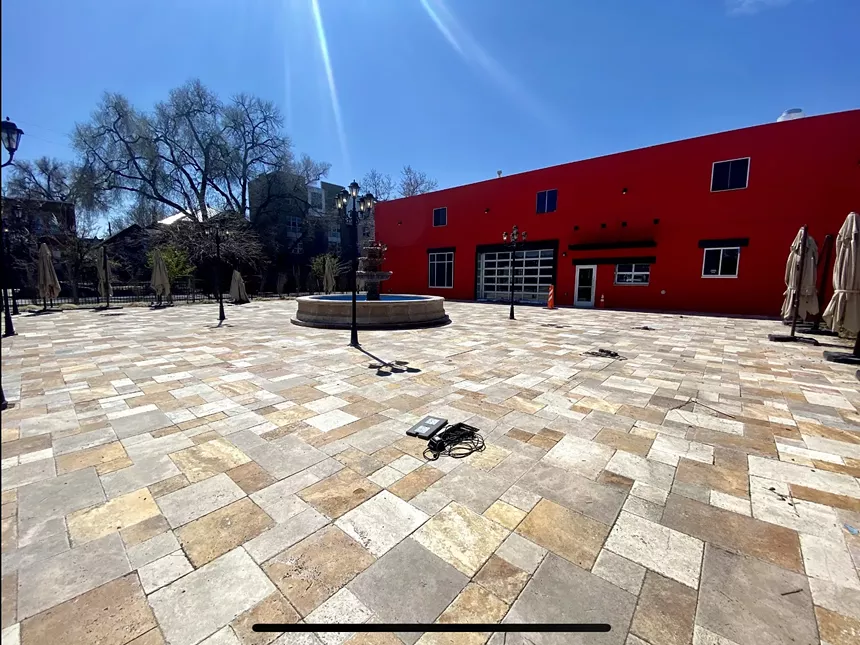 There is also a fourteen-tap draft system that was partially installed last year by Left Hand Brewing, he says. The Longmont brewery
had agreed to lease the space from Liberati
in March 2020 before
backing out five months later
— but only after having painted the building red and redoing parts of the interior. Left Hand is now planning to open
a 7,500 square-foot taproom and restaurant
next to the Mission Ballroom, at 4242 Wynkoop Street, at the beginning of 2022.
"It was an interesting year. We had quite a few bites [on the building], but those bites faded away with the progression of the pandemic," Liberati says. "But I think I really lucked out with finding tenants now who are good, honest, nice people. I really love Henry's model and his approach. It is very passionate but also very analytical — something we can always use a little more of these days."
Liberati's brewpub had garnered an immense amount of respect and attention, but it didn't generate enough traffic to keep the doors open, and closed after just a year and a half in business. Liberati says he is glad to see that both MobCraft and Dee Tacko are going to put the kitchen and brewery to use in creative ways.