Nathan Hall
admits he's never been a big fan of opera, at least not the overwrought kind we're used to seeing.
"I mostly don't like how in traditional opera there's always a woman who dies in the end. Everything is a bit overly dramatic," says Hall, a Denver-based experimental composer known for his adventurous and contemporary musical ideas. "I'd like to challenge people's concept of a classical-music genre like opera."
And somewhere along the way, Hall came up with a way to do that, becoming enamored with the notion of writing a modern opera based on lifestyles that are often hidden from the mainstream. "I wanted to do something with more contemporary relevance to things in my own life," he explains. "I had the idea coming back from a residency in Sweden a few years ago and wrote the basic idea on an airplane napkin."
Hall's scrawl across the napkin eventually grew into the concept of a queer/kink opera raising the art of
shibari
(Japanese rope bondage) to a higher aesthetic level while also conveying the idea of empowerment on a personal — and often secret — level. The opera,
Unbound
, began to take shape in his mind.
"I wanted to see a music work that shows queer people in it," Hall says. "Showing an experience often relegated to the shadows makes it a little more human. I don't see people like myself a lot in productions, and I thought, 'That's the work I need to do.' After the pandemic year, I realized my time on Earth is short."
He adds, "I also had a large interest to push the boundaries of Denver's art world a little."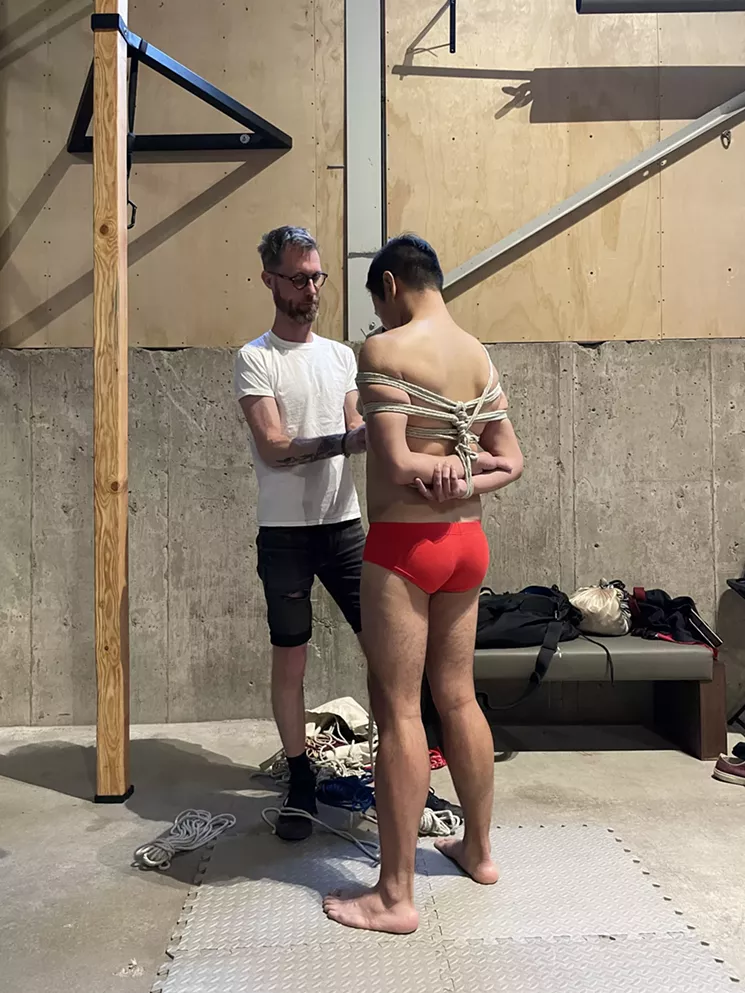 Opera sounded like a good vehicle for doing all those things. "I'd found that I love writing music for choreography, drama and intrigue," says Hall.
But did he need to go as far as mixing up queerness, kink and the art of shibari? Would Denver give it a chance?
Hall thinks so. "For me, it became a really good symbol for being able to trust someone, to be put in a vulnerable place and find freedom with experience," he says. And he knew where cast members could be, well, shown the ropes.
"Denver has a bondage studio,
Studio Friction
. They were interested in the project and the mission to elevate shibari as an art form," he notes. Things were lining up nicely.
"One of the founders gave a presentation to all our staff and singers," Hall continues. "It was amazing to see how many people had not done anything like this before, and there was a spark of excitement, with people thinking, "Oh, I could do this. It's not so intimidating."
What melds all of these unusual elements into something believable and cohesive?
"The glue that holds it all together is the soundtrack the singers sing to," Hall says confidently. "My training is from classical music, but I also have a love for electronic music: club beats, synth, drum machines. It gives the right atmosphere to the plot of the opera, forming a foundation for the singers."
Hall's adherence to a dance-club sound wraps itself around the unfolding story. "It's an hour-long show focusing on the arc of an experience of a lead character who's never had a bondage experience before, standing in a fetish club wanting to have a fantasy experience but not sure what that would be," he explains. "He goes through a series of misconnections until he meets the co-lead, who offers that experience.
"There's some discussion about consent and the rules of the game," he adds. "They end up sharing a connection, and no one has to die."
He does offer a note of caution.
"It is a show for adults only," Hall says. "I would say my favorite thing about it is to see the cross-section between music lovers, adventurous opera fans and also the regular community, especially if they have an interest in fetish and kink. "This is a way to experience that in a musical light that works for both the unexperienced and the actual rope-bondage fans."
What will bring an audience from both leagues to the show?
"What's my hook to get people there?" Hall asks. "
Unbound
is a kink opera that blends three different worlds: classical singing, theater and bondage." And how does it work, aesthetically? "It's dark and sexy, but accessible enough that we will all identify with the main character, who is searching for a fantasy without knowing what he really wants — someone vulnerable, looking to put himself in a place outside his comfort zone."
Adds Hall: "There's usually a good reward for that."
Unbound
— composed and directed by Nathan Hall with a libretto by Alan Olejniczak — opens on Friday, August 27, and runs for five performances ending September 4 at Studio Friction, 740 Lipan Street. Tickets start at $30 at Eventbrite ($60 includes reserved seating, a small-group intro session to bondage and ties with an expert from Studio Friction before the show, and a length of rope to take home). Learn more online.