Word on the playground: The top rapper in Denver is seven-year-old
London Monroe
. She dropped her first-ever song,
"Fleek,"
on June 25, her seventh birthday, and now has a candy-colored
music video
to match.
Music is in Monroe's blood, explains her father, Marcus Smith. "My grandmother played piano for a church out here in Boulder. She was really talented on the piano, and that got passed on to my mom, as well. Just playing instruments, as far as on my mom's side, was a big thing. As far as vocals, that started with me, I guess."
Smith, who went by the stage name
M6
, had an impressive rap career of his own in his younger years, opening for major artists like Nas, Ja Rule and the Game.
But after becoming a father (he has a sixteen-year-old son in addition to London), he shifted his focus to his day job as an electrician while still producing for friends on the side.
"I built up a huge following for myself, and I'm at that age now where I do music because I love music," says Smith. "I love hip-hop, rap, R&B, pop — all of that. But as far as chasing the dream, I'm at that age now where it's time to hand down the torch, which has been really cool. I've actually kind of handed over my following to London."
Smith had no plans to make Monroe a rap star, but when she asked to try making her own music, he couldn't resist.
"I was just doing music, and she was like, 'Dad can I try?' She always sits there and watches me. So I was like 'Why not? Come on over,'" he recalls. "I found that beat that she did 'Fleek' on, produced by one of my producers,
Jay Caspersen
, and I was like, 'Okay, try and rap this: "Mama do my hair keeping London on fleek."' That's just what came to mind, and she put the headphones on, and right when she was supposed to come in on the beat, she just did it. I was like, 'Did you really just do that? Okay, let's try another line!' And she knocked that one out. So I was like, let's just keep it going — she's killing it."
Her talent for rap at such a young age surprised Smith. "She's huge into dancing. She just loves music in general. She's got little moves, and she's really sassy and snapping her fingers and all that. So I knew she loved music, but I didn't know she had the talent to rap like that," he explains. "I had to go on YouTube and check out other six-year-olds just to see what kind of level she was at. I was really blown away by how ahead of her age she was."
As for Monroe, she was delighted to share in her dad's passion for music. "I like challenging myself to do rapping," she says of the experience.
Monroe's skills may be beyond her seven years, but "Fleek" is definitely appropriate for all ages. In her wholesome, family-oriented lyrics, she talks about her mom doing her hair, going shopping with her dad, and her big brother always having her back.
So what does it mean to be "on fleek"? It means "I'm fly, pretty and bougie," she says.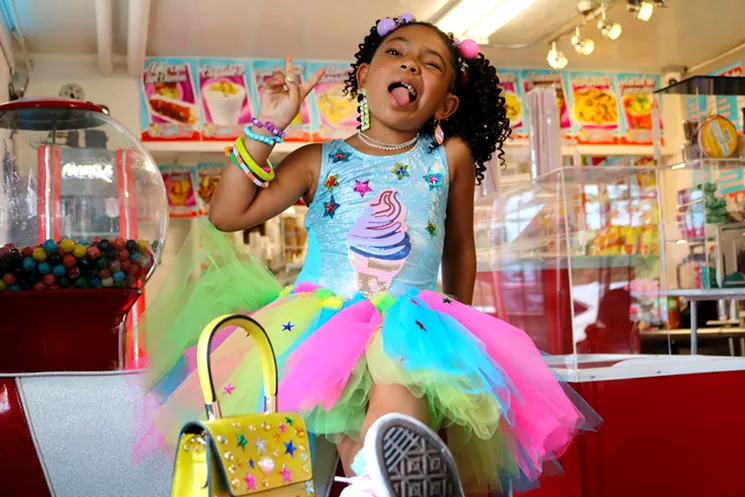 When it came time to shoot the "Fleek" video, Smith wasn't sure how his daughter would handle all the commotion. But once again, she surprised everyone by being a pint-sized professional. "I thought that having a bunch of people around her, she might get shy and shut down, but it was the total opposite," says Smith. "When she's running and playing around, she's just a regular seven-year-old. But when the camera's on or when you put those headphones on her, she just snaps into this whole other person. It's amazing."
The "Fleek" video is just as adorable as the song itself, with Monroe, her friends and her cousins dancing and laughing in Technicolor tutus and bows styled by Monroe's mom. In the video, she's got her bling on and some cash to flaunt, like any big rap star. But in the shots where she's not happily perched on a display case at Mile High Jewelers, she's just being a normal kid, eating ice cream and running around a candy store. The visual was shot at
Neveria Bule Bule
, a local retro ice cream and candy shop on Morrison Road. With its '50s diner-style decor, walls of candy and cases of sweets, it's the perfect backdrop for Monroe to show off her moves and enviable confidence.
London Monroe is just getting started. She plans to keep making music with her dad, and the two of them are currently working on a new song called
"Chocolate and Lollipops"
that she recently previewed on her TikTok. With a release planned in the next few weeks, the track promises to be just as sweet as Monroe herself.
"Fleek" is available now for streaming and download on all music platforms. You can watch the "Fleek" music video on YouTube and see behind-the-scenes videos on London Monroe's TikTok.