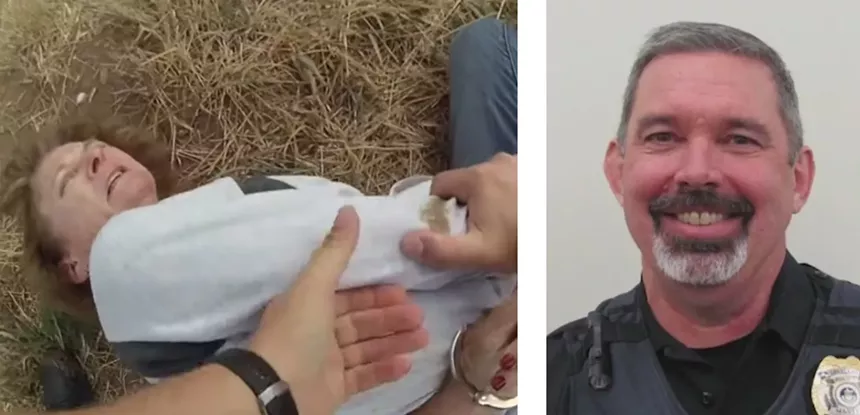 Embattled Loveland Police Department
Sergeant Philip Metzler
, a defendant in a lawsuit over the
brutal 2020 arrest of Karen Garner
, a 73-year-old with dementia, has resigned his position. But that's not enough for Garner's family.
The City of Loveland recently
settled the suit over the Garner bust for $3 million
. But while arresting officers
Austin Hopp and Daria Jalali have both been criminally charged
for their actions in the incident, Metzler wasn't — despite being caught on video bullying a witness who saw the whole thing go down. By quitting, Metzler has short-circuited an internal investigation into his actions, much to the frustration of Garner's loved ones.
Their statement reads: "We hope the other supervisors still employed at Loveland PD — and there are many — who called the use of force against Karen 'appropriate' and 'reasonable' are fired and not allowed to resign and find employment with another department."
In the meantime, Sarah Schielke of Loveland's
The Law & Liberty Law Office
, who represents the family, celebrated Metzler's exit in a tweet sent out late on September 22, following the City of Loveland's
announcement
. "Sergeant Philip Metzler — master of gaslighting and intimidating citizens and covering up police misconduct — has just resigned from Loveland PD. My GOODNESS that took long enough. Chief Ticer, you're next!"
Schielke's mention of Loveland Police Chief Bob Ticer follows her offer after the settlement was announced of what she described as a "ransom" — a $50,000 donation to a dementia charity if he's out of the job within thirty days. She reminded people of this proposal in a September 17 tweet that asks: "Has Chief Ticer resigned or been fired yet? Nope. Sad! Well, at least there's still 21 days left for @CityofLoveland to do the inevitable (#fireticer) AND make me send $50,000 to a dementia charity of Ticer's choice. Big double win for this community. Tick tock, y'all!"
Metzler's actions have been a point of emphasis for Schielke as well. Early on September 7, a few hours before the settlement was confirmed, she released the video of Metzler, which she accused him of trying to hide in "evidence no-man's land" to prevent it from landing in her hands. In the introduction to the clip's page on YouTube, she wrote in all caps: "REMEMBER — PHILIP METZLER IS STILL EMPLOYED AS A SERGEANT AT THE LOVELAND POLICE DEPARTMENT."
Here's the video.
"Personnel changes were not on the table during negotiations" over the lawsuit, Shielke told
Westword.
"I thought it was important that the Metzler stuff be released to the public before the last chapter on the lawsuit was announced, since it's at the core, in many ways, of explaining how the [$3 million] number got so high. This is not a rogue bad apple. This is a big problem at a big police department."
Metzler "should have been charged and fired," she continued. "Think about that video of him and what he does to threaten a citizen who courageously stopped and tried to protect a vulnerable member of our community from police violence — the way Metzler treats him, the tone he takes, the intimidation, the telling him he doesn't know what he saw when Metzler wasn't even there to see it. That video was viewed by many other supervisors within Loveland when I filed the lawsuit back in April. There are audit logs that show whenever anyone has seen a video, and it was seen by a sergeant, a lieutenant and an assistant chief, yet they didn't fire him, which is insane. I can't wrap my brain around what kind of person becomes a police officer and sees a citizen who had the courage to say they saw excessive force and does nothing about it. There is so much to unpack about that attitude, and who knows what other things he's done. He's a supervisor — he trains subordinates — but in that video, Hopp and Jalali laugh and say, 'Good ol' Metzler.' Which means it's a repeat performance."
Ticer "was engaged in the disciplinary review process" involving Metzler when the sergeant resigned, according to the Loveland PD. "A chief of police does not have the ability to prevent an officer from resigning," the chief says in the release. "But this resignation closes one more chapter of an incident that has tarnished the hard work of the men and women of the Loveland Police Department, who have and continue to serve with honor."
Whether that chapter is actually closed is clearly a matter of debate.