As autumn arrives, the art world comes to life with a host of shows at venues across the city. Enjoy pop-ups, documentary screenings, fantasy art, collaborative installations and works made by emerging youth artists and their seasoned mentors.
Here's what's happening at the galleries, pop-ups and more.
Valerie Savarie, Nicole Grosjean and Miki Harder, Once Upon a Time
Valkarie Gallery, 445 South Saulsbury Street
Through October 17
Opening Reception: Friday, September 25, 5 to 8:30 p.m.
Cabinet of Curiosities Reveal: Friday, September 25, 5:43 p.m.
It's a favorite time of year at Valkarie Gallery, when carved-book artist Valerie Savarie, one of the venue's founders, teams up with like-minded artists for some hardcore fantasy art on the sweet side. This year's theme is
Once Upon a Time
, though it stretches the fairy tale to its outer limits. It's also when Savarie and friends unveil the annual Cabinet of Curiosities, full of special small works to pick and choose from (if you can't make the reception,
message the gallery for a preview list
). This year, a second Cabinet of Curiosity will be opened on First Friday, October 31, with a new set of cool minis.
Risa Friedman and Mike Strescino
Art Can, 2500 Larimer Street
Fridays and Saturdays, September 22 to October 5, 4 to 9 p.m.

New at the Ramble's Hotel's pop-up gallery Art Can this week are Risa Friedman, a multidisciplinary photographer, collagist and urban archaeologist, and visual artist Mike Strescino, whose painted portraits and figurative works are distorted with color, while his drawings are copiously detailed in a way that's probably rubbed off on his other career as a tattoo artist.
Kathryn Oberdorfer, Narrative: Reflective of the Pandemic Era
Madeleine Dodge, Lost Objects: An Anthology of Blue: Paintings With Excerpts From Poems by the Columbine Poets of Colorado
Patricia Miller, On Borrowed Time, in the North Gallery
Spark Gallery, 900 Santa Fe Drive
September 23 through October 17
Open House: Saturday, September 25, noon to 5 p.m
Last Look: Sunday, October 17, noon to 4 p.m.

A painter at heart, Madeleine Dodge has no problem mixing up media in her abstract compositions. Her latest collection,
Lost Objects: An Anthology of Blue
, is inspired by poems in solemn shades of blue, while fellow Spark member Kathryn Oberdorfer's abstract paintings riff on people finding their way back from long-term COVID isolation. In the North Gallery, Patricia Miller uses photomontage and digital painting to comment on humans' impact on nature.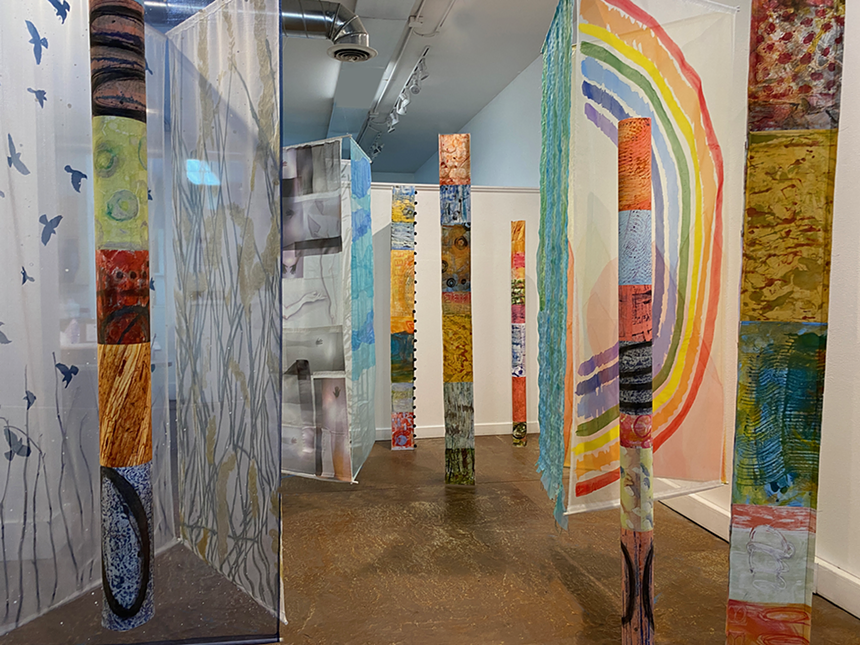 Victoria Eubanks, Judy Gardner, Kendra Fleischman, Jennifer Ghormley, Bonnie Ferrill Roman, Catalyst

Niza Knoll Gallery, 915 Santa Fe Drive
September 24 through November 21
Artist Talk: Sunday, October 10, 1 p.m.
$5 suggested donation at the door

The five women artists, Victoria Eubanks, Judy Gardner, Kendra Fleischman, Jennifer Ghormley, Bonnie Ferrill Roman, were given carte blanche to transform Niza Knoll Gallery into a collaborative multi-sensory installation. The result is the well-named exhibition
Catalyst
, which seamlessly incorporates cast paper, fiber, 3-D printed forms and video projection to create a sensuous walk through an artistic paradise.
Carlos Estévez, Preludes
Homare Ikeda, Small Works, on the Mezzanine
William Havu Gallery, 1040 Cherokee Street
September 24 through November 6
Cuban artist Carlos Estévez has been granted plenty of main-gallery space at Havu for twenty phantasmagoric canvases rendered precisely in oil and watercolor pencil, both large and small in size. Each work is its own cabinet of curiosities, holding shapes informed by delicate machinery, mandalas, electronic boards, semiotic language and forms from nature. For balance, painter Homare Ikeda has a group of small expressionistic works on the Mezzanine that burst with color and lively shapes.
Design & Build: The Fantasy Show
Museum of Outdoor Arts, 1000 Englewood Parkway, Englewood
September 24 through December 17
Opening Reception: Friday, September 24, 6 to 9 p.m.

Design & Build, a collaborative art program for young and emerging artists mentored by local art fellows and resident artists, has been an integral part of MOA's mission for the past twenty years. The seasoned creators teach the ropes of teamwork and technology needed to create complex works of public art. This year's culminating project,
The Fantasy Show
, follows the trend of Meow Wolf and selfie museums with an out-of-this-world theme. Enjoy food, drinks and spins by DJ Manos at the reception.
Discussion and Tour With Charles Livingston, Friday, September 24, 6 to 8 p.m.
Demonstration and Artist Pop-in with Brett Fox, Saturday, September 25, 11 a.m. to 7 p.m.
BRDG Project, 1553 Platte Street, Unit 100
Drop by the BRDG Project on Platte Street this weekend for a pair of mid-show events: First, Pirate Member Charles Livingston will lead a discussion and walk-through of his installation
PM2.5
, composed of words, prints, sound and artist books — some of it monumental in scope. The show paints the dots between his own struggle with asthma and the effects of particulates on all human lungs. On Saturday, photographer Brett Fox, whose work is in the ongoing group show,
Soliloquy
, will give gel-transfer demonstrations and offer insights into his work.
Pamela Joseph, Radical Beauty
Deb Adams-Welles, In High Fidelity
Michael Warren Contemporary, 760 Santa Fe Drive
Through October 23
Opening Reception: Friday, September 24, 5 to 8 p.m.
Artist Talk: Pamela Joseph in Conversation With Michael Paglia, Saturday, September 25, 10:30 a.m. to noon
Two artists working in mixed-media and paint — Pamela Joseph and Deb Adams-Welles — use different approaches while covering similar ground by collaging materials into a composition. Their shows open on Friday; on Saturday, Joseph, who does that composing on plexiglass cut into shapes, will sit down with
Westword
critic Michael Paglia, to discuss her process.
is PRESS *NEWSSTAND*
Dateline Gallery, 3004 Larimer Street
Friday, September 24, 4 to 7 p.m.
Saturday, September 25, and Sunday, September 26, 2 to 7 p.m.

Peter Miles Bergman's is (short for Institute of Sociometry) PRESS takes over Dateline Gallery by infiltrating the shelves of the gallery's souvenir stand with zines, prints, patches and other propaganda from Friday to Sunday. It's a step up from leaving leftist leaflets in little free libraries, a practice documented as radical art in the installation "Leaving Leftist Leaflets in Little Free Libraries," a part of MCA Denver's exhibition
Citizenship: A Practice of Society
that opened about a year ago. No joke.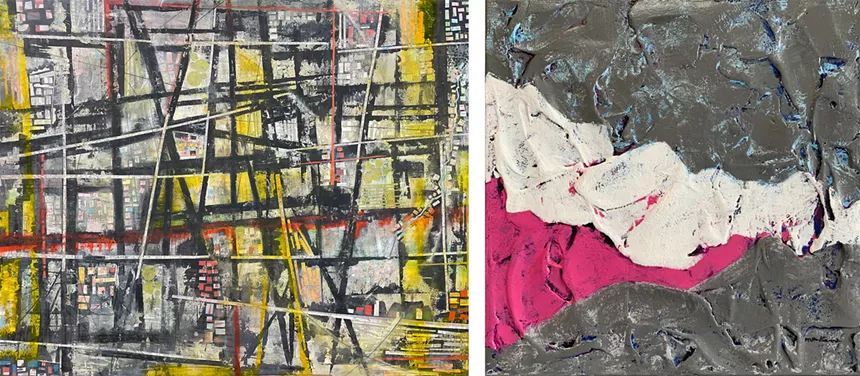 67,000 MPH: Carrie MaKenna, Atmospheric Conditions, and Kelly Austin-Rolo, 8,760 Hours
Fred Voigt Becker, Inviolable Work, in the East Gallery
D'art Gallery, 900 Santa Fe Drive
September 23 through October 17
Opening Reception: Friday, September 24, 6 to 9 p.m.

D'art members Carrie MaKenna and Kelly Austin-Rolo collectively consider how our planet is moving through space at 67,000 MPH, with MaKenna contemplating the atmosphere in thick, textured acrylic paint while Austin-Rolo applies encaustic and collage to assure a strong sense of place in spite of how small we are in relation to the universe.
Collective Misnomer: Beyond the Screams: A U.S. Latino Hardcore Punk Documentary
Clyfford Still Museum, front lawn, 1250 Bannock Street
Friday, September 4, 8 p.m.
If you ever wanted to come out for one of Collective Misnomer's experimental and underground film screenings, now's the time — not only is it the fifth anniversary of the nomadic series, but it's the last show of the season, and it's free, thanks to a grant from RedLine's Checking In program. And the finale is grand, too.
Beyond the Screams: A U.S. Latino Hardcore Punk Documentary
, produced by former Los Crudos vocalist Martin Sorrondeguy, tells the story of Latino punk and DIY movements in the U.S., with lots of concert footage and a sense of community.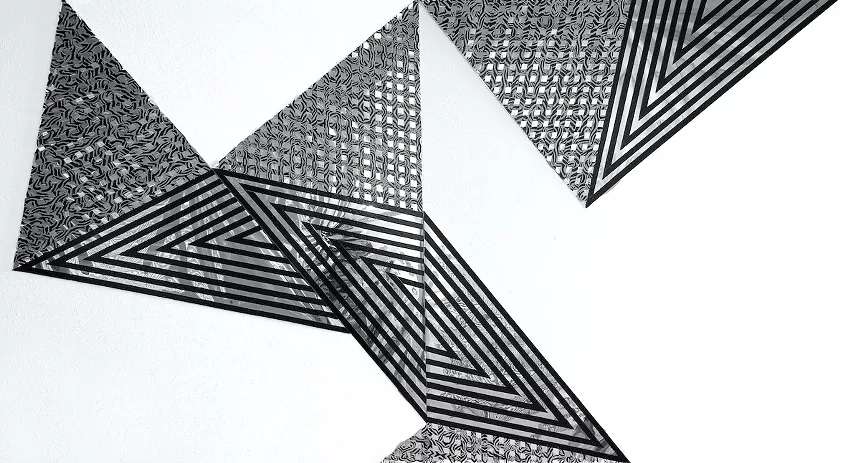 Artnauts, Uncanny Times: Looking Back, Looking Forward
Seidel City, 3204 Longhorn Road, Boulder
September 25 through November 13
Opening Reception: Saturday, September 25, 4 to 7 p.m.
Artist Talks With Artnauts: Sunday, September 26, 11 a.m. to 1 p.m.; Saturday, October 2, 2 to 5 p.m., Sunday, November 6, 2 to 5 p.m.
Virtual Art Talk: Wednesday, October 20, 6:30 to 8:30 p.m.
Closing Celebration: Wednesday, November 13, 2 to 4 p.m.
The Center of Visual Art and curator Cecily Cullen will travel to a satellite location — Seidel City in Boulder — perfectly in sync with the exhibition
Uncanny Times: Looking Back, Looking Forward
, a 25-year look back at the
Artnauts
, a group founded by University of Colorado Boulder art professor George Rivera to jump-start an international exchange between Colorado artists and their peers in other countries. Several talks are scheduled throughout the run (one of them is virtual if you don't fancy driving to Boulder), making for plenty of opportunities to see the show.
New Beginnings: Embracing our Common Humanity
Bella Luna Gifts & Gallery, 2045 Downing Street
Saturday, September 25, 6 to 9 p.m.
Bella Luna, the beautiful little Downing Street gift shop with a spiritual side, is celebrating its fifth anniversary with some sprucing up and new spaces for classrooms and tarot reading, plus the real coup: a dedicated art gallery. Come see the store's first art show, curated by Velia Garcia-Martinez and David A. Martinez of East Los Arte — just in time for upcoming Dia de los Muertos festivities.
Learn how to join the party and what's in-store online
.
Fall LandMark Openings: Mindy Bray and Patrick Marold
Mindy Bray: Sunday, September 26, noon, Ralston Central Park, 5850 Garrison Street, Arvada
Patrick Marold: 1 p.m., Blunn Reservoir, between Highway 93 and Indiana Street on West 64th Parkway, Arvada
The outdoor public-art project LandMark, spread out in parks and other public places in Arvada and Lakewood is shutting down for winter, but you do have one last opportunity to learn about the art in Arvada. LandMark's last openings of the summer happen Sunday at Ralston Central Park and Blunn Reservoir, for artists Mindy Bray and Patrick Marold, respectively. Enjoy refreshments and free flowers from Crescendum Flower Farm at Bray's event; be ready for a half-hour hike to Marold's installation from the parking lot, but have no fear: a naturalist will turn that hike into a nature tour.
Find maps and parking info online
.
Interested in having your event appear in this calendar? Send the details to

[email protected]

.