Guns N' Roses
is the sort of band whose members could walk on stage, defecate and still have fans screaming for more. But when these former-bad-boys-turned-legacy-rockers came to
Dick's Sporting Goods Park
in Commerce City on August 16, the musicians all showed that they still deserve a spot in the arena — even if it would be fun to see if they could handle a venue as small as
the hi-dive
, without the fancy animation and stadium frills.
How about a small-club tour to boost local venues that took a big hit during the pandemic, Guns N' Roses? We dare you. You can afford it. But can you smash it?
This act once dubbed "the most dangerous band in the world" risks turning snoozy, playing these massive shows for the same old fans. Yet in these days of
Lil Nas X
— who makes Guns N' Roses look like a boardroom of buttoned-up insurance brokers — the legacy rockers still managed to get some schoolchildren partying to their music, as I did with my friends back in the '80s, sweating and screaming along to "Appetite for Destruction," feeling edgy as one of our dads drunk-drove us to mini golf.
The kid in front me at the show, probably still in elementary school, couldn't get enough. Though it was the night before his first day of classes, he was standing on his seat, swaying his arms, banging his head and shooting the sign of the horns. Hail Satan, he grinned. He mugged for a photo with middle fingers drawn toward his mom's smartphone and then made friends with a group of stoned, drunk adults who were wearing headbands in honor of Axl Rose. The five of them partied together till the adults left (to avoid parking-lot gridlock) and the kid, worn out, slumped in his seat as Rose crooned "Patience" and "Paradise City" for the encore. That child wasn't the only die-hard fan tuckered out — but the band raged till the end.
Through the night Rose dashed across the stage, swirling the mic stand, even as Colorado's piss-poor air quality and elevation made him skip more than a few words in "Mr. Brownstone" and a couple of other songs, leaving it up to the audience to fill in the missing words.
Get the man some oxygen!
Rose, who's had a tough public transition into middle age and beyond, has begun to embrace his current self. He even threw in a
Jeopardy
joke — a groaner that barely registered with his hard-partying fans.
His singing, even on Guns N' Roses classics, has taken blows from critics since the band first formed, and when he belts out the old songs, his voice doesn't get any better, veering between stadium rock and something like an injured cat who just ran a fifty-yard dash between dumpsters. Who cares? He still brings energy and love for the audience. He's a natural showman, even as he's become more oddball than rebel. When he nailed something vocally spectacular, he'd look at the audience like a dolphin trainer whose animal just did a triple flip:
Did you see that? We've still got it. Holy moly!
His performance on the band's new song, "ABSUЯD," was the best of the night, making me giddy about the first Guns N' Roses album since
Chinese Democracy
in 2008. No, it doesn't sound like retro Guns N' Roses. Nor should it. Rose has been stuck in a creative crisis for decades, and desperately needed to do something different. Finally, he is: This song is self-loathing in the best way, angry and unpolished — everything Axl Rose was always too pretty-boy to be, no matter how rough things got. At 59, he's finally moving on from his twenties, and rock will be better for it.
What made this Monday night concert so special, though, wasn't just Rose's new creative direction or hyper-cool Slash's wizardly bluesy solos or the theatrical antics of fellow guitarist Richard Fortus. And it wasn't Duff McKagan — by far the hottest member of the band, with the most swagger — owning the crowd with a cover of the Stooges' "I Wanna Be Your Dog" (which made me wonder why he wasn't the lead singer). Nor was it heavy-pounding drummer Frank Ferrer driving the music, nor Denver-raised keyboardist and Broncos fan Dizzy Reed bringing hometown pride alongside fellow keyboardist Melissa Reese, a natural rocker.
The real holy-moly treat of the night — missed by most fans who were stuck in the beer line, as Dick's Sporting Goods Park's computer system went down, blocking the venue's cash-free concessions — was Colorado's own
Velveteers
, a last-minute replacement for Wolfgang Van Halen's new band, Mammoth WVH, which was out of commission thanks to COVID. (The pandemic continues to be a concern at these large-scale shows, where people mob together maskless, even as Delta upends everything we thought we knew about the trajectory of the pandemic. All that coronavirus anxiety makes shows feel risky in the worst possible way...especially as kids like the one in front of me go back to school.)
Fronted by brooding guitarist and singer Demi Demitro, drummer Baby Pottersmith and drummer and multi-instrumentalist Jonny Fig, the Velveteers brought a vintage rock sound to the arena that had some Guns N' Roses diehards dropping their jaws in admiration.
Guitar-and-drum-driven rock has felt musty in recent years. Even popular young acts like Greta Van Fleet sometimes seem like something better left molding in the record-store dust bin next to scratched-up copies of
Led Zeppelin IV
. But the Velveteers, who aren't shy about acknowledging their hard-rocking predecessors and have been recently mentored by producer Dan Auerbach of the Black Keys, are bringing fresh energy and intensity to the genre — making Guns N' Roses all the more relevant just by association and proving that, yes, rockers
can
try new things. Absurd? No way.
The show's promoter,
Live Nation
, did the right thing putting a local band that most in the crowd hadn't heard on the lineup — even if it was a last-minute calculation. Now do it again!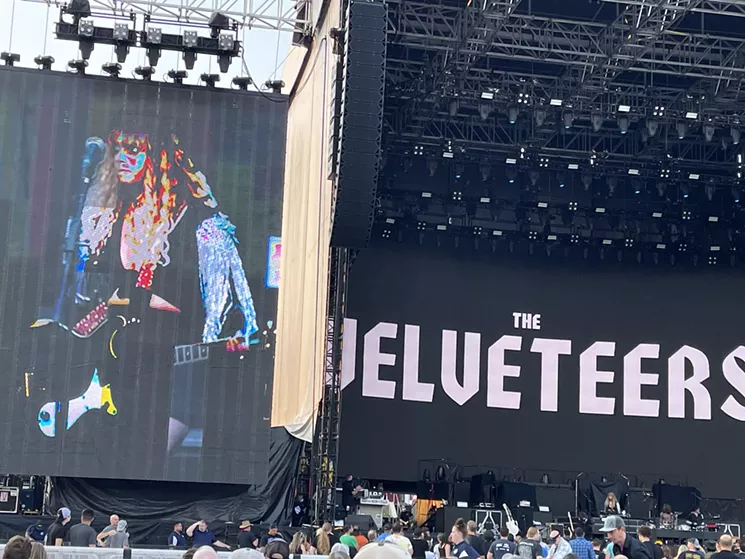 In a city with as rich a live-music scene as Denver's, promoters should be required to book a Colorado act before every major gig. Denying locals a slot deprives the fans, who would be delighted to discover new artists and build a sense of hometown pride. And it deprives local musicians, who are desperately trying to keep up in a city that has become a world-class concert destination but lacks the infrastructure to turn our own world-class musicians into the stars many deserve to be. Even the promoters are hurt by not cultivating local talent that could sell out their venues at a lower price than a touring band.
The Velveteers, now gearing up for a new album release in the fall and headlining the
Gothic Theatre
on November 26, made those of us who knew these locals proud. They surprised the rest of the audience, who wanted more. One big-bearded biker dude had a twinkle in his eye, admiring the band's musicianship and undeniable style. My heart melted watching him soak in what Colorado has to offer.
Slash — a true legend — should be tipping that top hat of his to these newcomers, who are every bit as cool as he has ever been. The members of Guns N' Roses should have shouted out the Velveteers at the show — but as far as I could tell, they never did. Maybe they made up for it on social media.
Meanwhile, the Velveteers did nothing but express gratitude to Guns N' Roses, dominate the stage, and bring youthful spirit to a concert that could have been dismissed as antiquarian.
Rock fans should have more than artists of the past to look forward to. The genre shouldn't be stuck in the '80s, and the Velveteers are proving that it doesn't have to be. Fans of old-school bands just need to catch up, and concert promoters are in a position to help make that happen.
With the Velveteers, the future of rock is in good hands. And until then, Guns N' Roses will keep up, playing new music, taking creative risks and doing more than just cashing in on the past. Kudos to all of them.