Colorado communities frequently finish high in
national surveys about the best places to live
in the U.S. But the cities that have landed near the top of recent studies, including
Boulder
,
Denver
,
Parker
and
Broomfield
, also tend to have a higher-than-average cost of living. So the money-management site
SmartAsset
has assembled a very different kind of roster: the
ten Colorado municipalities that are the most affordable
. And the winners definitely qualify as surprises.
Witness the number-one choice, Federal Heights, an Adams County burg of just over
14,000 residents
(according to the 2020 U.S. Census) that's among the least hip spots in greater Denver, albeit one of the fastest-growing. The city has seen more than a 25 percent increase in population over the past decade.
For its study, SmartAsset looked at cities with a population over 5,000, then analyzed data from the perspective of a potential homeowner. The key stat was the cost of owning a home over a five-year period; that total was measured as a proportion of median household income to determine the city's affordability. Also part of the mix were closing costs, real estate taxes, homeowners' insurance and mortgage rates. These figures were then indexed to create an affordability score on a scale of zero to 100.
By this measure, Federal Heights was the runaway winner in Colorado, hitting 80.23 on the index. The city in second place —
Lamar
, a town of nearly 8,000 in the southeastern part of the state — ranked nearly thirty points lower.
Among the other places to turn up on SmartAsset's radar were
Security-Widefield
and
Cimarron Hills
, more populous places (around 32,000 and 16,000 residents, respectively) in El Paso County;
Fruitvale
, not far from Grand Junction on Colorado's Western Slope; the Pueblo suburb known as
Pueblo West
; another El Paso County spot,
Gleneagle
; the southeastern Colorado city of
La Junta
; Douglas County's
Roxborough Park
; and
Wellington
, in Larimer County.
Here's the complete rundown.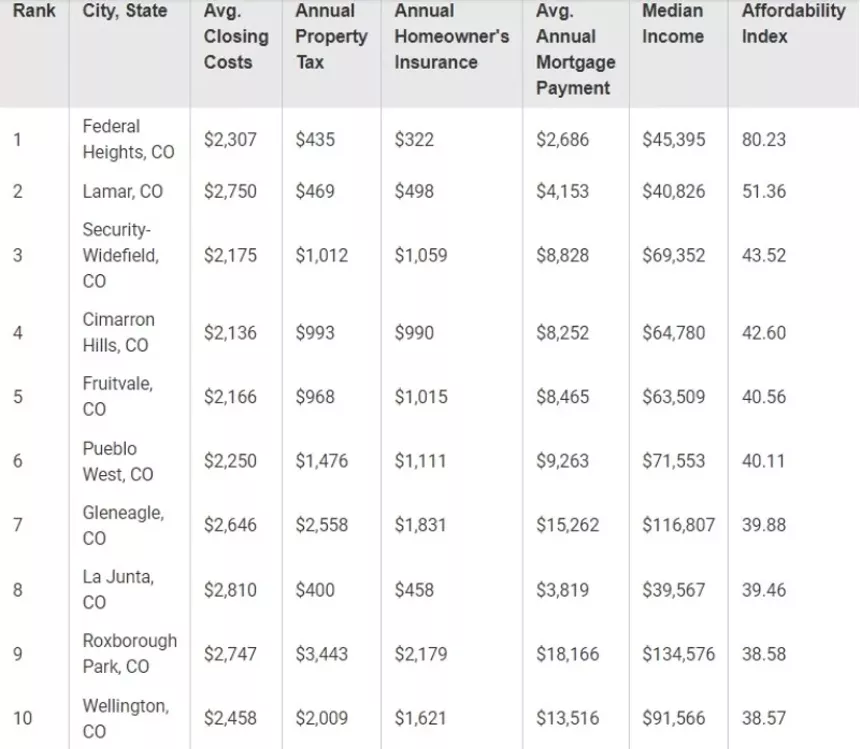 The SmartAsset study's focus is very narrow; it doesn't take into consideration cultural amenities, school quality, health-care availability, crime rate or pretty much anything beyond housing costs. But it does cast a spotlight on Colorado cities with lower-than-average home prices that tend to be overlooked by national tastemakers.