"Rigged."
When did we first hear that?
Oh, yeah...back in early 2016, when Donald Trump was one of seemingly hundreds of Republican presidential candidates and
Ted Cruz won all 34 of the Colorado Republican Party's delegates
during the precinct caucuses in March. They were awarded to the Texas senator the next month at the Colorado Republican Convention, where Cruz gave a triumphant speech.
Trump was not there, but he still had plenty to say about
the state of this state's election system
. "The people of Colorado had their vote taken away from them by the phony politicians. Biggest story in politics. This will not be allowed!" he posted on Twitter.
He told
Fox & Friends that real Republicans in Colorado
were "going absolutely crazy because they weren't given a vote, this was given by politicians. It's a crooked deal. ... It's a rigged system."
Colorado's caucus system is hard to understand, yes. Arcane? Definitely. But rigged? No.
Trump hadn't had a lot of luck in Colorado before then. There was that much-publicized catfight over the New York developer on the slopes of Aspen between first wife
I
vanka and soon-to-be-second wife Marla Maples
back in 1990. In 2006, after Trump had found more fame and less infamy with his starring role on
The Apprentice
, he saw his $1 billion bid to redevelop Union Station shot down when his team's six-paragraph proposal was considered "non-responsive" to the application requirements. Trump didn't win, but the process wasn't rigged.
While it would be almost a decade before the
redevelopment of Union Station
was finally complete, Trump came right back with a plan to construct the
tallest building in Denver
, one filled with a luxury hotel and condos. To make that plan concrete, he put the circa 1906 El Jebel Temple at 1770 Sherman and its three adjacent parking lots under contract for $22 million and hired Denver architect David Tryba to design a sixty-or-so-story tower. While the Moorish-inspired El Jebel, a landmark on both the state and national historic registers, would be used for meetings and other hotel services, Trump would take advantage of air rights and zoning deals allowed a few years earlier by the city to build a companion structure that towered 715 feet above downtown Denver. But plans for that Trump tower came crumbling down when the subprime mortgage industry collapsed.
Colorado didn't rig that, either.
Even without Colorado's delegates, Trump went on to win the 2016 Republican nomination, and then the presidential election, which he'd warned would be "rigged" — although if it were, it would have been in his favor, since he lost the
popular vote to Hillary Clinton
by nearly 3 million votes.
But there was no voter fraud then, just as there was no voter fraud four years later, when Trump lost the presidency to Joe Biden. That did not stop Trump from again pointing the finger at Colorado, however. This time, he did not accuse the state of doing the rigging, but instead blamed the "rigged system" on a Colorado-based company:
Dominion Voting Systems
, which provides voting programs for states around the country, including Colorado — where its services were first enlisted by a Republican secretary of state, and its systems helped earn Colorado a reputation for having the
"gold standard" for fair, accessible voting
.
On November 12,
Trump tweeted
in all caps: "DOMINION DELETED 2.7 MILLION TRUMP VOTES NATIONWIDE....STATES USING DOMINION VOTING SYSTEMS SWITCHED 435,000 VOTES FROM TRUMP TO BIDEN."
He had no proof then, and Denver-based attorneys
Gary D. Fielder and Ernest John Walker
had no more proof six weeks later when they filed a class-action suit — billed as "the largest civil rights class action lawsuit in history" — on behalf of all registered American voters in the United States District Court of the District of Colorado, alleging that their constitutional rights to vote for president had been unconstitutionally infringed upon by a slew of defendants ranging from Dominion Voting Systems to Mark Zuckerburg to Gretchen Whitmer, governor of Michigan. "The defendants engaged in concerted action to interfere with the 2020 presidential election through a coordinated effort to, among other things, change voting laws without legislative approval, use unreliable voting machines, alter votes through an illegitimate adjudication process, provide illegal methods of voting, count illegal votes, suppress the speech of opposing voices, disproportionally and privately fund only certain municipalities and counties, and other methods, all prohibited by the Constitution."
On behalf of their 160 million clients, the attorneys hoped to collect $160 billion.
The case was assigned to
U.S. Magistrate Judge N. Reid Neureiter
, who ultimately dismissed it for lack of standing on April 28. But the dismissal could just as easily have been for lack of substance, as Neureiter made clear in the order he released on August 4, granting the defendants' request for sanctions against the plaintiffs' attorneys.
Neureiter's 68-page decision may not have called the initial filing "rigged," but it certainly outlined just how ragged, lazy and dangerous it was, "litigation by cut and paste" that repeated "previously rejected theories and allegations."
"Complaint's allegations are extraordinarily serious and, if accepted as true by large numbers of people, are the stuff of which violent insurrections are made."

tweet this
As Neureiter noted: "This was no slip-and-fall at the local grocery store. Albeit disorganized and fantastical, the Complaint's allegations are extraordinarily serious and, if accepted as true by large numbers of people, are the stuff of which violent insurrections are made."
Given that, he continued, and "given the volatile political atmosphere and highly disputed contentions surrounding the election both before and after January 6, 2021, circumstances mandated that Plaintiffs' counsel perform heightened due diligence, research and investigation before repeating in publicly filed documents the inflammatory, indisputably damaging and potentially violence-provoking assertions about the election having been rigged or stolen."
The attorneys had money to do research; a crowdfunding campaign had raised $95,000, enough to hire "an expert or three to assess and verify the truth of the information," Neureiter noted.
At a July hearing on the motion for sanctions, Fielder — who's been disciplined by judges before and found to have "engaged in improper conduct" by removing and then replacing evidence in a
murder case Westword covered
— had protested that he'd attempted to reach experts. "I tried to email people and get a hold of them," he'd told the judge. "But no one really responded."
Neureiter did. He gave the attorneys for the defendants — eighteen in all — fourteen days from his order to send in their bills for a case he called "one enormous conspiracy theory."
"I was pleased; I wasn't surprised," says Denver attorney
Stan Garnett
, who represents Dominion. "I felt the law was clear, and felt the dismissal order was a good predicate for this....It was kind of a vindication for the role of the courts in our society: If you're going to file a lawsuit, you're going to need to have some evidence."
And a tweet from a former president doesn't qualify. "I've been a politics addict my whole adult life," adds Garnett, who previously served as Boulder district attorney. "We've never had a political figure who was such a sore loser as Trump."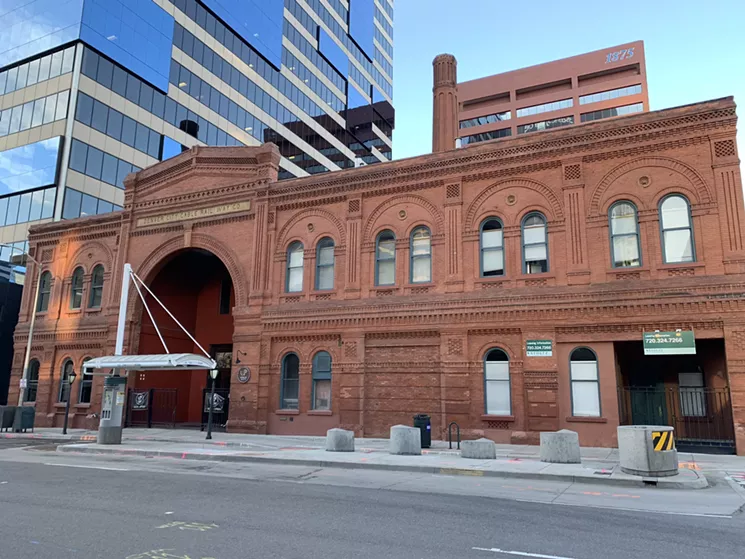 "In considering the circumstances of this case," Neureiter noted, "the Court must also consider that against the backdrop of the numerous failed lawsuits alleging election illegality was an ominous refusal by the losing candidate or his supporters to concede defeat publicly, even weeks after the election. This refusal was linked arm-in-arm with the repeated and widespread assertions that the election was 'rigged' or 'stolen.' These post-election claims had been foreshadowed by the former President via twitter many months in advance of the election."
There are many more damages involved here than legal fees, of course. Election and other public officials around the country were threatened by Trump supporters after he lost his re-election bid. Dominion Voting Systems had to leave its downtown office, and
Eric Coomer, its director of product strategy and security, went into hiding
. While Colorado got the consolation prize of holding the Major League All-Star Game after Georgia passed a new voting law that Biden called "Jim Crow in the 21st century," state legislatures continue to take a swing at adopting even more restrictive voting laws.
Dominion has filed suit against a range of defendants, everyone from
Rudy Guiliani
to
Mike "MyPillow" Lindell
, who took time out from predicting that Trump will return to the White House on August 13 to encourage Coomer to turn himself in.
"As we saw [January 6] at the Capitol, these allegations haven't just affected me," Coomer told
Westword
after he filed his own suit against the Trump campaign, among others. "They're doing real damage on our democratic process. I hope that this lawsuit can bring more information to the public that may not understand how elections work and all of the safeguards that are involved. Even though it's systems I've helped develop and design, at the end of the day, it is the day-to-day elections departments for counties throughout the U.S. that are charged with conducting free and fair elections, and they do an amazing job."
No rigging needed.

Here's Judge Neureiter's order
: