What:
Lady Nomada
Where:
7519 Grandview Ave, Arvada
When:
Open daily at 11 a.m., closes at 10 p.m. Sunday through Thursday and 11 p.m. Fridays and Saturdays
For more info:
Visit
nomadakitchen.com




What we saw:
Make no mistake: Lady Nomada is indeed in Arvada, Colorado, not a seaside town in Mexico, a beach spot in California or a Cuban neighborhood in Florida — though it sure feels like you're out of state when you enter, in the best possible way.
The space, which opened July 24, is large and bright. Exposed brick walls are painted in shades of white and pastels with bursts of colorful, beach-themed murals. With 144 seats, the options are varied and include low-sunk plush chairs, cozy booths, wooden banquets, tall stools along the vast bar, two-seaters built next to the wall and plenty of soft pillows, blankets and accents that give the restaurant a comfortable, visiting-a-friend vibe.
Created by the Gastamo Group, the team that brought us Homegrown Tap & Dough, Park Burger and Birdcall, chef and owner Jean-Philippe Failyau truly transports guests to Baja, both in the decor and food, much like he does at Washington Park's
Perdida
, the sister restaurant to Lady Nomada that debuted February 8 at 1066 South Gaylord Street.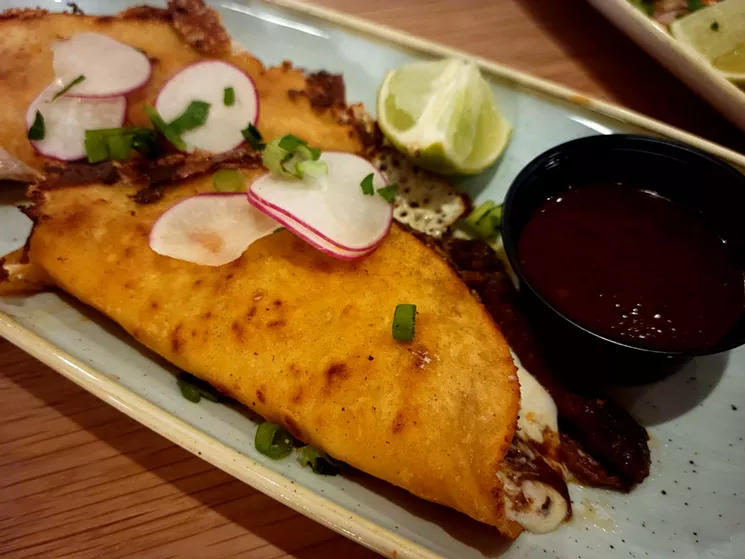 Perdida's menu mirrors Lady Nomada's in style, but the majority of the dishes are unique to each location. At Lady Nomada, the menu is made up of shareable small plates ($10 to $15), snacks ($5 to $9) and larger entrees ($18 to $25) such as fried snapper with Baja Veracruz sauce, olives and mint; grilled St. Louis ribs with tamarind BBQ sauce; various fajitas; and posole verde, which is made with littleneck clams, pulled pork, hominy and cilantro, and served with corn tortillas.
There's also a taqueria menu priced between $11 and $14 for two hefty tacos that are certainly enough for a filling meal for one. The birria option was short rib and queso Oaxaca perfection, with everything stuffed into a fried pocket and enhanced with ancho chile dipping sauce. There are also tacos made with pork carnitas, honey-grilled shrimp and tempura fish — aka the Baja fish taco that came out light and flavorful and was an instant hit at our table.
Before the meal, make sure to tackle Failyau's snack menu. It includes chips with a smoky and spicy salsa verde, fresh guacamole spiked with serrano peppers, a deconstructed street corn and warm queso with green chilies, which can be enhanced with a variety of proteins. The seasonal melon and tomato salad with black vinegar, basil and mint added a fresh side to the other dishes, as did the snapper ceviche with mango vinaigrette.
Lady Nomada's general manager, Lindsey Greene, has taken charge of the beverage menu, and on it you'll find classics including margaritas and palomas, as well as creative cocktails such as the Olde Town, with silver tequila, the Mexican herb damiana, grenadine and lime; the Laua Rose with reposado, Aperol, pineapple, grenadine and lime; and the Oaxacan Sunset, a take on a traditional tequila sunrise, but with added mezcal and hibiscus. There are also a few beers and wine on the menu.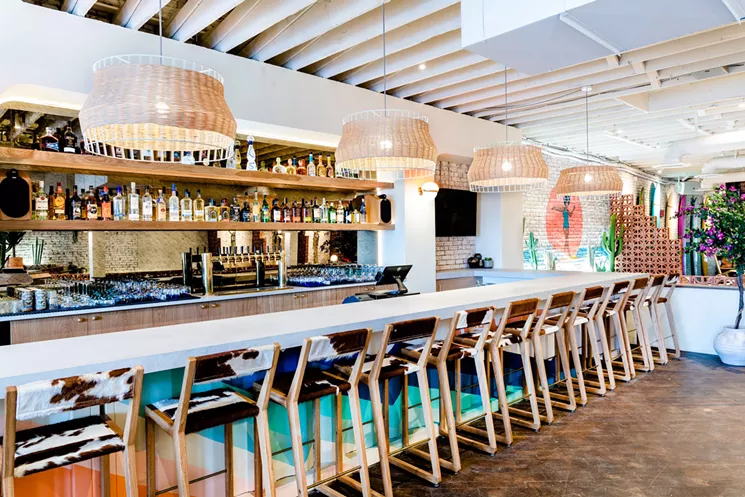 What surprised us:
The food at Lady Nomada is solid and fresh, but while that was expected given the restaurant group's other ventures, it was the spice level that shocked and pleased. Everything we tried had a bit of heat to it. Never burning, but enough BTUs to keep the street corn and salads interesting.
Then there was the decor. In the culture of selfies and Instagram, it shouldn't surprise us that new places are being built to fuel the social media fire, but it still does at times — and Lady Nomada was no exception. You can literally take a picture anywhere in the space and the backdrop will be perfect for a really cool photo. There's even a special "selfie wall" by the bathrooms with an ocean mural and art installation by artist Lindee Zimmer. Overall, the vibe at Lady Nomada feels like a party; the restaurant plans to host live bands two nights a week, and on other nights, the 200 vintage speakers that line the floor will blast out funky dance beats and electric pop while the stage area becomes a space for impromptu dance parties.
It's like a seaside party with really good food, and if the inside gets too loud to chat with friends, there are quieter tables available in front of the restaurant.