Rent prices in most of metro Denver
fell slightly last month, as is common at this time of year. But over the course of 2021, rents have
risen sharply almost everywhere in the greater Mile High
, with several suburbs posting even larger spikes than Denver itself.
The
December rent report
from
Apartment List
reveals that rent within Denver city limits slid by 0.4 percent from October to November, the most recent month for which numbers are available. But over the past twelve months, Denver rents have gone up a gulp-inducing 17.1 percent.
If it's any consolation, the average rent increase nationally for this period is 17.7 percent. Moreover, the November decline is the first time in nine months that Denver rent prices have dipped even slightly.
Here's a graphic that compares rent in Denver to prices in Colorado as a whole and the U.S. generally.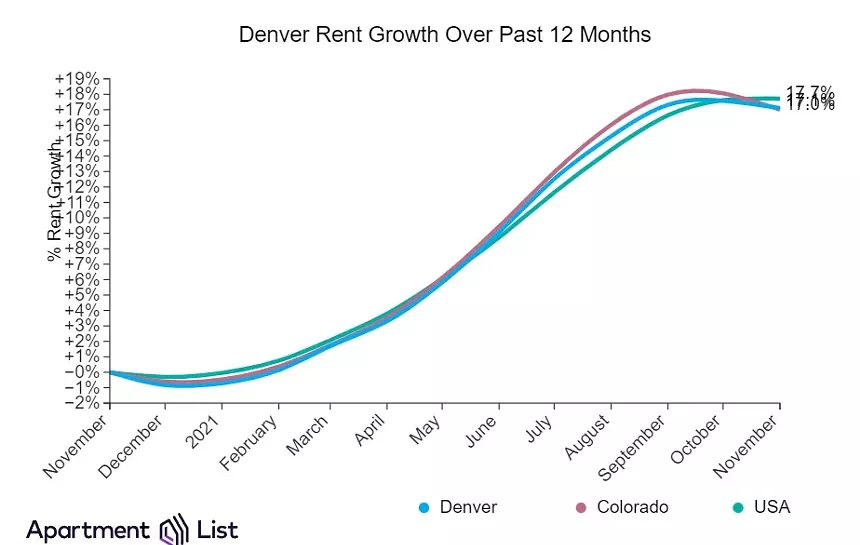 In November, the median price for a one-bedroom apartment in Denver landed at $1,490, with the two-bedroom median at $1,820.
This last figure is undeniably hefty, but it's actually a bargain compared to costs in other metro communities. Last month, two-bedroom tags were higher in Englewood ($1,840), Littleton ($1,890), Thornton ($1,930), Westminster (also $1,930), Parker ($2,120) and Broomfield ($2,270).
As for the year-over-year percentage gains, the smallest bump took place in Brighton, which rose by 12.1 percent. The growth in northern suburban locations such as Arvada (14.3 percent), Thornton (15 percent) and Westminster (16.5 percent) was also below Denver's.
The spendiest municipalities? Parker, with an 18.1 percent annual upswing, followed by Aurora and Littleton, tied at 17.7 percent.
Here's a chart with the latest details:
Rents tend to go down during this season in part because few people want to be relocating in the bitter cold, when there's ice and snow on the ground. That's obviously not a problem this year — not yet.