Youth Documentary Academy
founder and director Tom Shepard says his program, which pairs teenagers with professional filmmakers to produce and direct short films on a variety of subjects, is a way to get underrepresented kids in southern Colorado access to film-industry education.
"More than 50 percent of our students are kids of color," Shepard says. "I think 20 to 25 percent are from the LGBTQ community. We have kids from military families. We have kids who are living with disabilities, like on the autistic spectrum. The common denominator is they all see themselves as an access point to a story."
Students have tackled a variety of subjects including mental health, coming from a first-generation immigrant family, suicide, living with a disability or having a family member with a disability, and growing up as an LGBTQ person. It takes about two months to produce a ten-to-twelve-minute film. The program operates out of
Pikes Peak Community College
in Colorado Springs.
The films are solid. They get shown at film festivals and in schools and at educational conferences, and the filmmakers have taken part in panel discussions.
"Because we are working with professional filmmakers, the production quality is high," Shepard says. "A lot of people are initially like, 'Oh, high school filmmakers, Mickey Mouse films, YouTube.' We are not that. We are unapologetically supervising them at every stage, so they get really good material."
He says kids have chosen an issue that matters to them, and making a film often helps them work through issues in their lives.
"That's not something we necessarily anticipated, how much sort of healing there is in this enterprise," he says. "The kids are taking an issue that was previously taboo or stigmatized or something that was keeping them from thriving in school or at home, some family issue. They are often kind of working through it by making a film."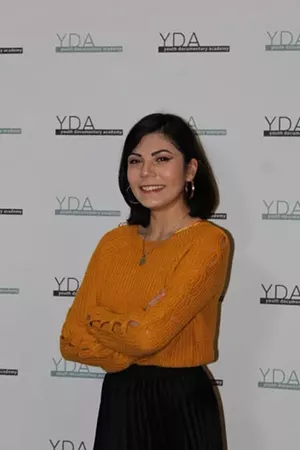 Former student
Kallista Palapas
, who has since gone on to film school, made a teen suicide prevention film, "I'll Be There," centered around a friend who died by suicide. She says it was difficult to interview her friend's family, and the editor she worked with also had a hard time going through some of the footage. It helped her work through her grief. She adds that she has gotten a good reaction from others who've seen the film.
"There were some very painful parts about it," Palapas says. "However, I did find some recovery afterward. At the premiere weekend, I found some closure to how I felt about everything, because her mother got to see the film that night. Sharing my work brought closure."
She adds that when a student goes through the class, he or she will leave with friends a few months later because of the personal nature of the film. Students learn a lot about one another over a short time span.
"We walk out with people who are like 'Wow, you know me and I know you,'' she says. "'You got me, and I got you.'"
Bailey Francisco
went through the first year of the program and made a film titled "After War," about his father's struggles with post-traumatic stress disorder and traumatic brain injury following his time in the military, including multiple deployments to Iraq. Francisco made the film without telling his father all of the details of what he was planning to make beforehand.
"Whenever I try to talk to my dad about [PTSD], he'd kind of become standoffish," Francisco recalls. "I ended up making the film without telling him everything. The funny part about it was he was the person who took me to my interviews and my class."
He says his father was embarrassed by the film at first but grew to appreciate it. Francisco grew up in military communities and says issues like PTSD, even though many families were struggling with it, just weren't discussed as a matter of course. His father is continuing to work through his issues, but the film has been good for their relationship.
"The film opened up that conversation for me and my dad to have," Francisco says. "That helped."
The Youth Documentary Academy started in 2013 and has graduated a class of students each year since, producing about 100 films in total. Quite a few students have gone on to study film, communications and journalism in college.
"I wouldn't say that's our primary goal," he says. "We love when that happens. We think that students gain so many skills that whatever direction they go, we feel they are more engaged in the world."
Francisco briefly pursued a journalism program but later learned how to operate heavy equipment. Currently, he's trying his hand at standup comedy. A mentor in the documentary program talked comedy with Francisco and showed him his favorite bits. Standup comedy, notoriously nerve-racking, is a different game altogether, he says.
"It's definitely easier to go up on stage and tell fart jokes than to show a film about my family's deep personal secrets," he says.
About three years ago, the program partnered up with Rocky Mountain PBS, which began showing some of the films as part of the series called
Our Time
to make them more accessible to a broad audience. Prior to that, some of the films were shown locally, but Shepard says they can resonate with viewers nationally.
"In the last two weeks, we've gotten word from
American Public Television
that they want to acquire and distribute our series nationally in 2022," he said in late August. "So it looks like stories from kids in the Pikes Peak region are going to be amplified across 333 television stations."
Shepard sees the jump to a wider audience as beneficial to organizers' dreams of expanding the Youth Documentary Academy.
"People can see that these films are not just sitting on a hard drive," he says. "They're on prime-time Thursday nights on
Rocky Mountain PBS
, and that hopefully will open doors for us to get more funding, because we need it."
The current season of
Our Time
premieres on Rocky Mountain PBS at 7 p.m. on September 16 and continues weekly for six weeks. The series will premiere nationally in winter of 2022. For more information visit the Youth Documentary Academy online.