On September 3, a draft of
proposed changes to Colorado's congressional districts
put the so-red-she's-ridiculous Lauren Boebert, currently representing District 3, in the same district as the current District 2 rep, Democrat Joe Neguse. The map is the first to reflect 2020 U.S. Census data, and while it's still subject to alterations suggested both by the non-partisan redistricting committee and the public (the
hearing for districts 2 and 3 is at 1 p.m. September 9
), a final decision is due by the end of September.
Will Boebert wind up taking on Neguse in 2022, in a winner-takes-all race to see what color that newly created corner of Colorado might be?
In case the map stays as now drawn, here's a quick comparison of the two reps:
Education
Lauren Boebert got her GED in 2020, a few months before being elected to Congress. Joe Neguse has a bachelor's degree in political science and economics, received his law degree in 2009, and sat on the University of Colorado's Board of Regents for seven years. While getting a GED can be admirable — it's often done when a student faces great challenges — Boebert disagrees with the value of higher education, which she has referred to as "
leftist training camps
." Being elected may not require an advanced degree — but in Congress, it couldn't hurt. And Neguse's legal training came in handy this past winter, when he served as impeachment manager.
Background Qualifications
Neguse helped found an organization to get young people involved in politics. Boebert founded a diner devoted to gun worship. Neguse's organization,
New Era Colorado
, is still going strong and pushing civic engagement for the betterment of the community at large. Meanwhile, Boebert's
Shooters Grill
reported six-figure losses in both 2019 and 2020, and is known in the area for a "
mass food-poisoning incident
" involving pork sliders at the 2017 Rifle Rodeo.
<!——————StartFragment——————>
Conspiracy Theories
Boebert said
she hoped QAnon was real
, because that would mean "America is getting stronger and better and people are returning to conservative values." She believes that "
Critical Race Theory is modern-day Jim Crow.
" She's been flooding Twitter with misinformation about Afghanistan for weeks, peppering her feed with demands for President Joe Biden's immediate resignation based on that bad intel, purposeful bloviating and right-wing propaganda. Neguse has remained largely silent on these issues, mostly because they are not issues. They are silly bullshit, and responsible people who have work to do don't have time to respond to silly bullshit.
COVID-19
Speaking of bullshit conspiracy theories, Boebert and Neguse are starkly divided on how the pandemic should be handled. While Neguse has
firmly supported the science
in terms of prevention, treatment and dealing with the economic impact, Boebert has shifted her position with the prevailing right-wing wind. First, it wasn't a big deal. Then it was, but it was the Democrats' fault, then China's, then both. Her record is hard to track on the issue, because it's neither linear nor logical. These days, she's mainly focused on the idea that
masks and social distancing are "fake news,"
and that immunizations and Dr. Anthony Fauci are fascist frauds, and she continues to belittle the importance of the vaccine by calling it a "Fauci Ouchie." It's a hallmark of Boebert's first term that she clearly — and wrongly — thinks what she says is super-cute and clever. The adults in the room disagree.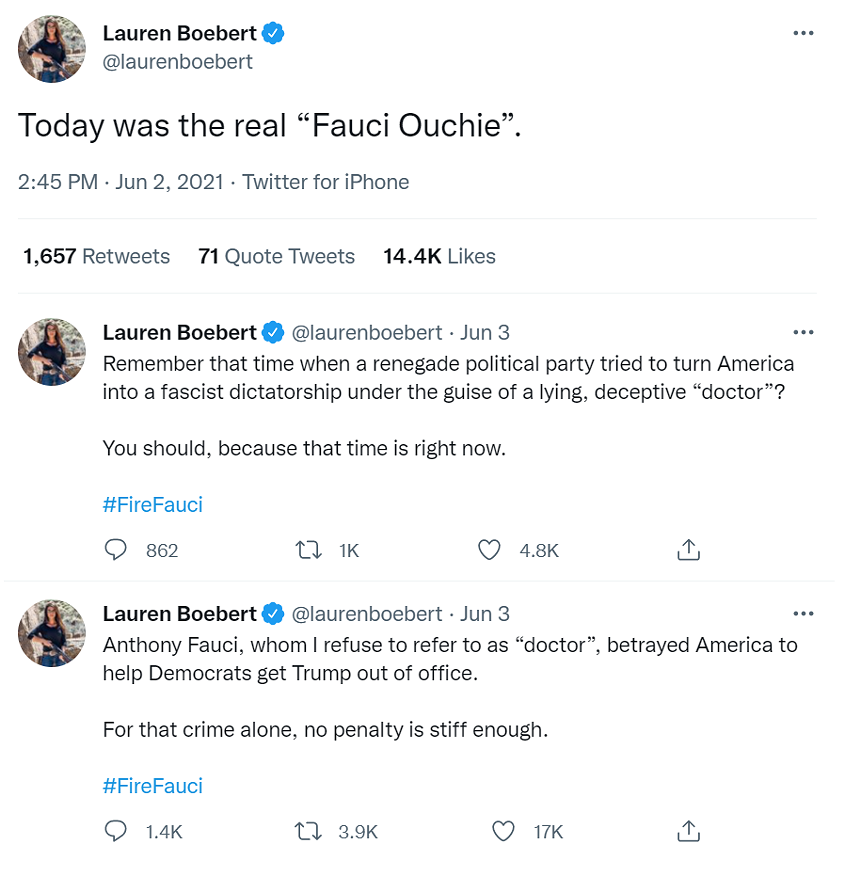 Climate Change

Neguse sits on the
House Select Committee on the Climate Crisis
. Boebert
railed against the Paris Accords
, arguing that it would kill "responsible energy" jobs. Whether or not there's a real argument depends a lot on how you define "responsible energy" — not to mention how much money you might make on catering to the fossil fuel industry. You know, like Boebert's husband did, collecting nearly a million dollars for "consulting" in 2019-2020 — an amount, by the way, that
Boebert failed to disclose until recently
.
<!——————StartFragment——————>
Guns
Boebert's pistol-packin' heart started going pitty-pat the moment we started using terms like "showdown" and "shootout." Neguse, on the other hand, understands metaphor. More important, he serves as
Vice Chair of the House Gun Violence Prevention Task Force
, which, among other things, has called for a reinstatement of the ban on assault weapons. Boebert's position on assault weapons is that they make great Zoom backgrounds, especially when you tell your colleagues that they're "
ready for use.
"
Immigration
Neguse has called on the Biden administration to
support those living in sanctuary in Colorado
and to
end the use of private immigration detention centers
, and has firmly
advocated for DACA
and the Dreamers. Boebert keeps talking about Trump's wall (despite sections of it
failing in recent flooding
), as well as the scourge of the "illegals," and the evil "caravans" reported to be on the move.
Women's Rights
Boebert said the Equal Rights Amendment should be "thrown out like rotten milk." Neguse voted to enshrine it in the U.S. Constitution, so that "equality of rights under the law shall not be denied or abridged."
This happened
at the same time there was a vote on extending the Violence Against Women Act: Boebert voted no, Neguse voted yes. Boebert is staunchly anti-choice; Neguse committed to defending Roe v. Wade before his election, and has continued to defend it since. Considering the silent Handmaid who's just became the deciding factor on the U.S. Supreme Court, knowing who's for women's rights and who's against them has suddenly become more important than ever.
Protecting Democracy
Neguse is working to punish American insurrectionists, having played a major role in the second impeachment of then-president Donald Trump for his role in the January 6 attack on the U.S. Capitol. "Like every one of you,"
Neguse said at the trial
, "I was evacuated as this violent mob stormed the Capitol's gates. What you experienced that day, what we experienced that day, what our country experienced that day, is the framers' worst nightmare come to life. Presidents can't inflame insurrection in their final weeks and then walk away like nothing happened." Boebert, with a tweet that would have been super cool if in fact the coup of the United States government had been successful, was their cheerleader. "Today is 1776," she tweeted in one of her first acts as a congresswoman — and arguably, what probably should have been one of her last.
Goats

Boebert recently came out with the brave stance that she's firmly pro-goat. Neguse has so far remained silent on any and all
capra hircus
issues. The goat in Boebert's photo — not a supporter, based on body language — later released a statement that read in part: "I had serious questions about her seemingly inconsistent comments on border security during the two recent administrations, but she just kept smiling for the camera."