The end of summer is just days away and fall is in the air. But so are the sounds of live music and laughter, as well as the smell of roasting chiles.
Today you can play hopscotch or watch birds in Lafayette, shop in Arvada, listen to music in Boulder, celebrate a new comic book in Denver or simply enjoy more beautiful weather across the metro area. Keep reading for ten free things to do today.
Jackalope Denver
Sunday, September 19, 10 a.m. to 6 p.m.
Olde Town Square, 5700 Olde Wadsworth Boulevard, Arvada
The popular Jackalope artisan market will be camping outdoors in Olde Town Arvada's Olde Town Square this weekend, bringing a big selection of more than 100 indie vendors selling exactly what you need for the coming holiday season, from hostess gifts to one-of-a-kind autumn garb. Entry is free, and Olde Town is crowded with spots to grab a bite or a wake-up cup of coffee.
Learn more here
.
SoBo Sidewalk Social
Sunday, September 19, 11 a.m. to 5 p.m.
Table Mesa Shopping Center, Boulder
SoBo Rising, a grassroots nonprofit established after the shootings at King Soopers, is holding a community event with live music, kids' activities, comfort dogs, community art projects and snacks. Many of the businesses are hosting sidewalk sales, giveaways and other activities: Table Mesa Hardware will be hosting a petting zoo, Play-It-Again Sports will have a putt-putt challenge, Yoga Loft will host a free yoga class and Sweet Ruckus is hosting a letter-writing station to send notes to loved ones. Admission is free; find out more
here
.
Handmade in Colorado Expo

Sunday, September 19, 11 a.m. to 6 p.m.
Skyline Park, 16th and Arapahoe streets
Looking for a gift market that's strictly Colorado-made? Try the Handmade in Colorado Market: It's juried, stocked to the rafters with affordable artisan goods of every stripe, includes live music and is dependably fun to browse. The second of three Handmade in Colorado markets this year, this one is centrally located on the 16th Street Mall; the last of the season is scheduled at Fillmore Plaza in Cherry Creek North on October 2 and 3. Admission is free; find info
here
.
Oktoberfest AF Fall Market
Sunday, September 19, noon to 5 p.m.
Dairy Block Alley, 1800 Wazee Street
American Field is back for four weekends in the Dairy Block Alley with a curated, all-local group of vendors with a fall-ish theme: think warming infused body oils, boots, sturdy pottery, baseball-themed gift items for World Series season, streetwear and more. And yes, Oktoberfest will be celebrated with live music and food and drink specials, as well as pop-up bars. The fun continues weekends through October 10, and admission is free;
get more information here
.
Mapleton Hill PorchFest
Sunday, September 19, 1 to 4:30 p.m.
Mapleton Hill Neighborhood, west of Broadway from Spruce to Concord streets, between 4th and 9th streets, Boulder
One of Boulder's prettiest neighborhoods, Mapleton Hill is a Victorian anachronism of stately homes both sprawling and compact with wraparound porches, Queen Anne gingerbread, towers and gables, surrounded by huge trees, including the 200 silver maples and cottonwoods planted by developers over a century ago. The free annual PorchFest might be the best way to see them, as people walk and bike through the September streets to catch musicians playing on several sun-dappled blocks' worth of porches and verandas.
Get more info here
.

Celebrating Migratory Birds
Sunday, September 19, 1 to 3 p.m.
Waneka Lake, 1600 Caria Drive, Lafayette
Learn about migration, marshes and the role birds play in our lives during this eighth annual event. The walking path between the east parking lot and Greenlee Wildlife Preserve will host local organizations with activities and displays to entertain and educate. Admission is free; find out more
here
.
Center for Musical Arts
Sunday, September 19, 2 to 6 p.m.
200 East Baseline Road, Lafayette
The Center for Musical Arts is turning 25 with a free birthday party and performances by Otis Taylor, the Gatos Band and Center jazz ensembles, including Musical Theater (Broadway Boomers) and the Steve Christopher Combo. There will also be a silent disco and activities for kids, as well as food trucks. Find out more
here
.
Grieving Wall Comic Book Release Party
Sunday, September 19, 4 p.m.
Mutiny Information Cafe, 2 South Broadway
Denver writer and Regis writing professor R. Alan Brooks has made a name for himself in the graphic-novel game, first with his book
The Burning Metronome
, and again a couple of years back with
Anguish Garden
. Now he returns to the form, partnering with local artist Sarah Menzel Trapl to tell a very human tale of a very magical, if empty, mall. The product of that collaboration is the new graphic novel
Grieving Mall,
debuting with a launch party at Mutiny Information Cafe. Find out more
here
.

ongoing: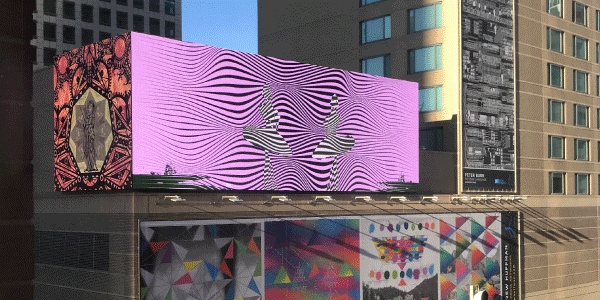 Supernova Digital Animation Festival: Re-Generation

Through September 30, online
The Supernova Digital Animation Festival: Re-Generation is back with online programming through September 30. But you can also see digital animation in person, with an amazing new array of Denver Night Lights projections on the Clocktower Building downtown from dusk to midnight Tuesdays through Sundays. And once the fest ends, Denver Digerati will remain on display with a special exhibit inside Meow Wolf for the year. Get all the details
here
.
Project Hopscotch
Through October 15
Old Town Lafayette, Public Road corridor between Baseline and South Boulder roads, Lafayette
The Old Town Lafayette Association came up with a free and delightful way to introduce the small businesses, attractions and eateries along Public Road: It hired artists to create ten hopscotch courses around the Old Town district, giving visitors and townies alike a month to hunt them down, take a hop and discover what else there is to see and do around each location. Each artful hopscotch course sports a QR code; for every scan, $1 will be donated by the Lafayette Urban Renewal Authority to a scholarship fund for young artists. Find a
map here
, and
info here
.
\
Know of a great free event around town? Send information to editorial@westword.com.