Plenty of connections are made over a few drinks, but imagine all the friends and partnerships you'd make if cannabis were involved?
Break bread over buds during Infused Networking's next meetup, a cannabis-friendly networking and hangout session in Longmont. Find out more about Infused Networking below in our Cannabis Calendar, as well as CBD yoga, a cannabis beer conversation with Blue Moon creator Keith Villa, and more.
Tokeativity Birthday Bash
Wednesday, January 19, 5 to 7 p.m.
This virtual cannabis party and networking session celebrates Tokeativity's fifth birthday. The digital, women-focused gathering includes keynote speeches from leaders of Women Grow, Women Empowered in Cannabis and Women Leaders in Cannabis, as well as discussions about women workers in cannabis, moms using cannabis, and Black women in cannabis. Learn more and register on
Tokeativity's website
.
Infused Networking
Thursday, January 20, 6 to 8 p.m.
Private Venue
6387 North 107th Street, Longmont
Find new friendships, potential business partnerships and plenty of other connections during a cannabis-friendly networking session. Bring your pipes, joints, dabs or cigars to the private venue, and start mingling. Food will be available, and alcohol consumption is permitted. Register for $20 (21+) and learn more on
Eventbrite
.
Keith Villa on Brewing With Cannabis
Friday, January 21, 7 p.m.
Tattered Cover McGregor Square
1991 Wazee Street
Blue Moon Brewing creator Keith Villa is all in on brewing marijuana-infused beer, leaving Coors-Molson in 2018 to start his own line of craft beers that are infused with THC and CBD but devoid of alcohol. The Brewers Association, previously in the dark on cannabis,
paid Villa to write a book on the subject, as well as share some of his favorite THC beer recipes. Learn more about brewing withq cannabis (you don't have to take the THC out of home brews if you're not selling it) during Villa's appearances and discussions at the
Boulder Book Store
and the
Tattered Cover at McGregor Square
. Copies of his book,
Brewing With Cannabis: Using THC and CBD in Beer
, will be for sale.
Gogh Happy With Native Roots
Friday, January 21, January 28 and February 4
Lighthouse Denver
3900 Elati Street
A partnership between
Immersive Van Gogh Denver
and Native Roots dispensaries, this sensory indulgence combines art, sound and some cannabis pre-gaming. After signing up, guests receive a $50 gift card to Native Roots, dispensary swag and a two-hour
Van Gogh Denver
experience after the public goes home.
Tickets
(21+) range from $74.99 to $124.99 apiece.
Stretch & CBD Sesh
Saturday, January 22, 10:30 to 11:45 a.m.
Fort Greene Bar
321 East 45th Avenue
Laura Murphy of Velvet Roots Apothecary and Austin Dempers of Fire & Root are teaming up for a hemp and yoga class, teaching students about the medicinal value of certain botanicals and how to mix herbal medicine into a yoga routine. Find out more and purchases tickets for $45 apiece on the
Velvet Roots Apothecary website
.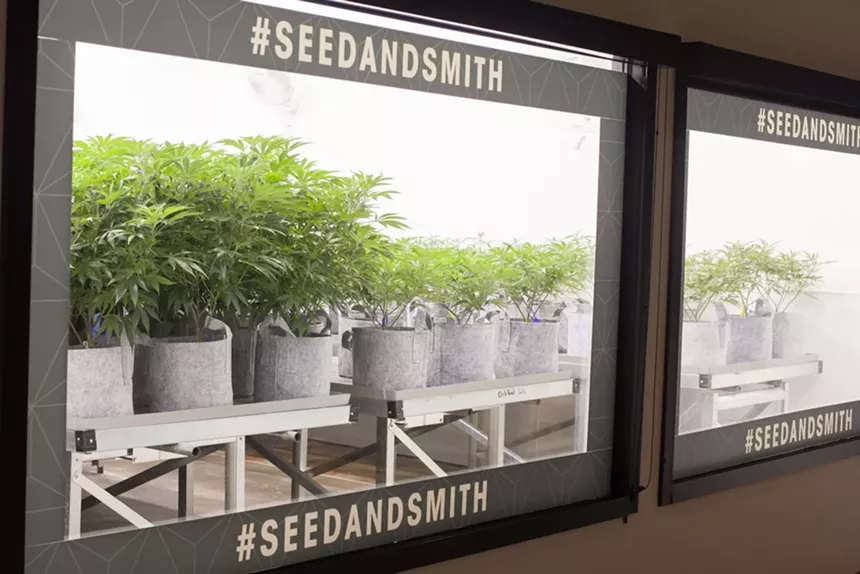 Ongoing cannabis events:


Sushi and Spliff Rolling
Wednesdays, Thursdays and Saturdays, 7:30 to 9:30 p.m.
Private Denver location shared upon registration
Want something to satisfy the munchies after a day of dabbing? Hang out with the Kush & Canvases team, which will be teaching a joint- and sushi-rolling class for people who never learned how to properly twist. Each class includes supplies to make three sushi rolls per person, as well as joint-rolling papers, but attendees need to bring their own cannabis. Tickets (21+) are $75 on
Eventbrite
.
Seed to Sale Tour
Thursdays through Saturdays, 12 p.m. and 6 p.m. (weekdays) and 11 a.m. and 2 p.m. (weekends)
Seed & Smith Denver
5070 Oakland Street
Ever want to learn more about the life of a cannabis plant? See what it takes to run to a cannabis cultivation, processing lab and retail dispensary with Seed & Smith, a vertically integrated marijuana business. Check out the grow room, hold a pound of weed, and get plenty of free smells in. Tours (21+) are free, but you have top
sign up online
first.
Cannabis Karaoke
Fridays, 11:45 p.m.
Colorado Cannabis Tours
381 East 55th Avenue
Rip that bong and belt those tunes at Colorado Cannabis Tours' Friday karaoke session, where no notes are too high. Book the late-night slot for one to three hours, then puff and sing the night away. Tickets (21+) are $11 per person on
Peek
; BYO cannabis.
Tokes and Brushstrokes
Saturdays, 3 to 5:30 p.m.
The Coffee Joint
1130 Yuma Court
After a more-than-year-long hiatus during the COVID-19 pandemic, Creatively Cannabis classes are returning to the Coffee Joint, Denver's only licensed pot lounge. For $49.99 ($69 the day of), students will receive instruction and painting supplies, but anyone wanting to consume cannabis must bring their own, as well as a vaporizer or dab rig (no smoking is allowed at the Coffee Joint). Find out more and buy tickets (21+) on
Eventbrite
.
Infused Standup Comedy
Saturdays, 7 p.m.
Studio 420
808 East 78th Avenue
Comedians and attendees alike can blaze as much as they want during these stoned standup sessions hosted at private pot club Studio 420. To get in, guests must be a member of Studio 420, but daily and limited memberships are available. Tickets (21+) with no membership are $10 on
Eventbrite
; guests must being their own cannabis.
Know of more marijuana events? Send information to
[email protected]
.