House of Pod
, Denver's independent podcast hub, sent out a plaintive email last week in which it warned that if it doesn't get some support by the end of 2021, it will be forced to close its community space and re-adjust its business model. As HoP founder Cat Jaffee put it in a video message, "This. Would. SUCK."
The problem is not a lack of success. House of Pod's "Guardians of the River" won both the
Jackson Wild Media Award
as well as the first-ever
Tribeca Film Festival Podcast Award
. And HoP was happy to share the accolades, hosting and bestowing its own
Hoppy Awards
at the end of 2019, in those comparatively halcyon days pre-pandemic, when business models didn't have to take into account the world shifting under everyone's feet.
But awards don't tell the full story, especially for an endeavor like House of Pod, which was initiated to foster community in a growing area of communication, to elevate and amplify marginalized voices, and to tell good stories. And it's perhaps fitting that the current challenges facing House of Pod make for a solid —if worrisome — yarn.
It began back when Jaffee was just conceptualizing House of Pod, when she admits that she made "a few big gambles." That House of Pod would attract podcasters interested in making Denver their home, that the creative support roles would appreciate having a salaried income with benefits rather than contractor work, that House of Pod could create good, quality content that could improve the growing field.
And for a while, it seemed to work exactly that way. In December 2019, "we were exactly on track," Jaffee says. "Everything was great. And then a combination of things happened."
The first was that Jaffee herself left on a National Geographic expedition to Angola, the very trip that would end up being the award-winning "Guardians of the River," which tells the story of southern Africa's Okavanga River Basin. "Not only did I want to make that show," Jaffee says, "but I also wanted to support the community making the show and have it be a collaboration between House of Pod and…the people most affected by the story."
Jaffee ended up being abroad for four months; when she returned in February 2020, she was so ill she couldn't walk off the plane. She was misdiagnosed with altitude sickness — something of an insult to a woman born and raised in Boulder, who was just returning from a locale in Africa that was essentially at the same elevation. Jaffee actually turned out to have malaria and dengue fever, both mosquito-borne maladies. That, in turn, became a cancer diagnosis when, during treatment for the fevers, doctors found a mass the size of a grapefruit on one ovary. She received word that it was cancer on the very day in March 2020 when Colorado went under a shelter-in-place order.
"So at the same time we had to temporarily shut down the main space of House of Pod," Jaffee recalls, "I started going through some pretty rapid treatments. I started full chemo while needing to produce this massive podcast for National Geo, and I couldn't at the time remember if the stove was on or if I shut the garage door or if I fed my dog, let alone write a complicated and nuances podcast in partnership with tribal members in six languages from across southern Africa. And then on top of that, because I am so problematically human, I also got a puppy."
Jaffee says she relied on the great strength of her team to get her through the process and eventually come out with an award-winning podcast.
But the story doesn't end there.
As "massively challenging" as life was until March 2020, the pandemic made things immediately worse, with clients canceling or postponing projects because no one knew what was coming next, or when they'd be able to emerge from their homes. After they finally did, the second COVID wave hit, and many of the film festivals at which Jaffee and HoP had planned to parlay their deserved success with "Guardians of the River" into new projects were moved online or canceled outright. "We knew Netflix was going to be there, and Audible was going to be, and Nat Geo and Smithsonian and Discovery, and all of these potential clients. It's one of those things where you suck up some of the early costs and eat some of the hardships early on so that you open a door. And when that door opens, you think you're going to walk into this room where there are people saying, 'Wow, you've done so much. Here, we want to fund your next thing.' That was what we were banking on."
So Jaffee went back to directly pitching studios, only to find that COVID had altered the landscape of that process, as well. "No one had the funding to develop shows anymore. If you're going to sell something, they want to see a nearly completed show. They want to see something that's 60 to 80 percent baked," says Jaffee. "And only then will they tell you if it's something they want to greenlight. And on top of that, they want it to be exclusive to their streaming platform. That's challenging for a small producer, when we're expected to front all the initial costs, with the added insecurity of not yet knowing if it's going to be something."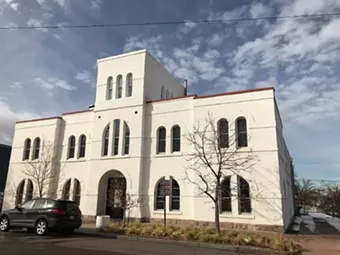 So what might set the storyline right for House of Pod?
It would "need investment to build out an original network here in Colorado that includes some kind of distribution partner," Jaffee says. "Some combination of funding and media know-how. If that kind of investor lives in Colorado — and I believe they do! — they would be great for us, and could really help us steer the ship in an exciting direction."
Meanwhile, Jaffee, those associated with House of Pod and the fans of the work they've helped to produce will keep the faith and hope that the call for help they've issued falls on the right ears. "I don't know if it's social conditioning, or all the bildungsroman I've read in my life, or the fact that I architect stories for a living," Jaffee says, "but you just expect that if you quietly suffer and you put in the work and that work is successful...that something is going to come out of it. It's the way the story is supposed to go."
For more on the House of Pod, visit its website.